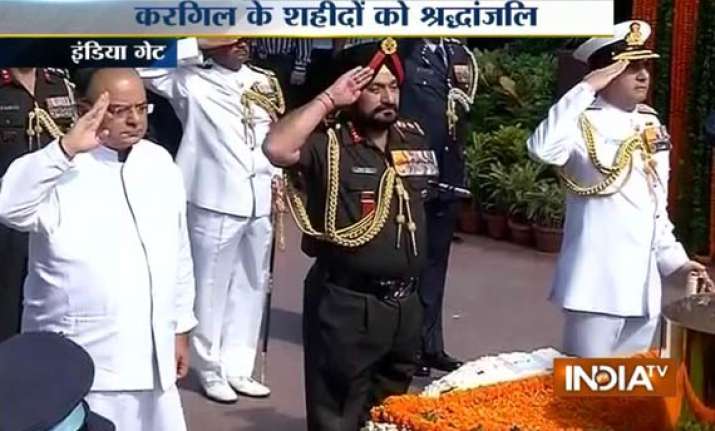 New Delhi: The day on which the nation commemorates its hard-earned victory in the Kargil War is also an occasion that invokes feelings of both pain and pride for the families of the brave jawans who laid down their lives protecting the territory of India from intruders.
As the country celebrates the 15th anniversary of its triumph in Kargil War, both the jawans and the families of those killed in the conflict have come a long way.
The families of the soldiers who made the supreme sacrifice for the country make it a point to visit the war memorial each year on the occasion of Vijay Diwas.
They remember their loved ones with pride, but the feelings of sadness have not waned.
"This place and this day reminds us of those brave-hearts who sacrificed their lives for the country. My son was one of them. I am sad that I lost my son but, at the same time, there is a feeling of pride that he laid down his life for the country," said Col VN Thapar, father of Capt. Vijyant Thapar, who was martyred while leading an attack of the 2 Rajputana Rifles at Tololing.
Fifteen years and many peace overtures later, the situation on the LoC and the border has not changed much. The troops on the other side occasionally open fire at Indian posts, thereby violating the ceasefire agreed between India and Pakistan in 2003.
The army says it has not let its guard down and the jawans add that they are motivated and ready for any challenge.
"We are always ready for any challenge. We have the capability of giving a fitting reply to the enemy," said MK Salam, a jawan. He said that Vijay Diwas makes the jawans remember the supreme sacrifices of their fellow soldiers and infuses them with a new vigour.
"Seeing the respect given to martyred jawans, we get inspired and filled with a renewed sense of doing something for the country," he said.
The two-day event to mark Vijay Diwas and commemorate the martyrdom of the jawans was kicked off by Army Chief, Gen. Bikram Singh, who offered floral tributes at the Kargil War Memorial here.
Many current and former top army officers also laid floral wreaths at the memorial this morning. That was followed by a memorial service and a visit to the 'Hut of Remembrance', a museum which has been constructed adjacent to the war memorial.
The celebrations of the 15th anniversary began with the lighting of lamps and a prayer service, which was followed by the traditional Pipe Band and Static Band display as well as the Beating Retreat.