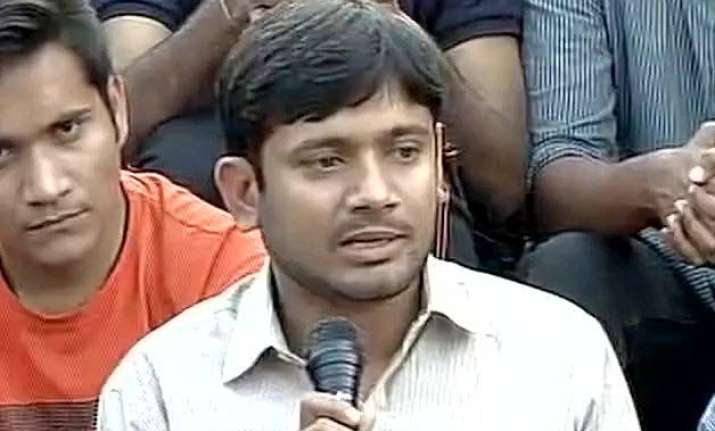 New Delhi: A day after his release from Tihar jail where he was housed on charges of sedition, JNUSU leader Kanhaiya Kumar today sought to distance himself from the political image being accorded to him, saying he was an ordinary student who wanted to be a teacher and that he was only worried about the responsibility given to him by the students of JNU.
"Let me make it clear that I am only an ordinary student and not a politician. The students of JNU have chosen me as their representative and I am not thinking more than this," Kanhaiya told media personnel at a press conference held at the JNU today.
Kanhaiya also dismissed allegations that he sympathised with parliament attack convict Afzal Guru saying he did not consider him as his icon. "Afzal Guru was a citizen of India who was prosecuted and found guilty by court. If you ask me, he is not my icon in today's time. For me, Rohith Vemula is my icon," he said.
 Referring to the event where alleged anti-India slogans were raised, Kanhaiya said that the students of the institution strongly condemned the incidents that transpired of February 9 and said it was up to the court to decide whether it was sedition or not.
"We strongly condemn what happened on 9th. It's for Court to decide if that was 'raaj droh' or not. We've faith in judiciary," he said, adding that JNUSU has never supported anything outside the boundaries of the Constitution and will maintain its stand in the future as well.
Kanhiaya further sought to assure the people of the country that JNU did not groom anti-nationals. "I want to assure the people of the country that their subsidies which are footing the bills for JNU are not going to waste. I want to assure the taxpayers of this country that a JNU student can never be anti-national," he said.
Responding to a question on whether he would comply with the conditions set by the court while granting him interim bail, Kanhaiya said that the court's directives were a way of life for him. The HC, while granting him interim bail for six months had sought assurance that Kanhaiya would not participate in any national activity.
"How can an individual living in this country indulge or support any activity that goes against the idea of the nation," Kanhaiya said.
Kanhaiya walked out from the Tihar jail yesterday after being granted bail in a case of sedition registered against him for his alleged involvement in raising anti-national slogans at an event in the university campus on February 9 that commemorated the hanging of Afzal Guru.
Two other students – Umar Khalid and Anirban Bhattacharya – are in 14-day judicial custody on similar charges.