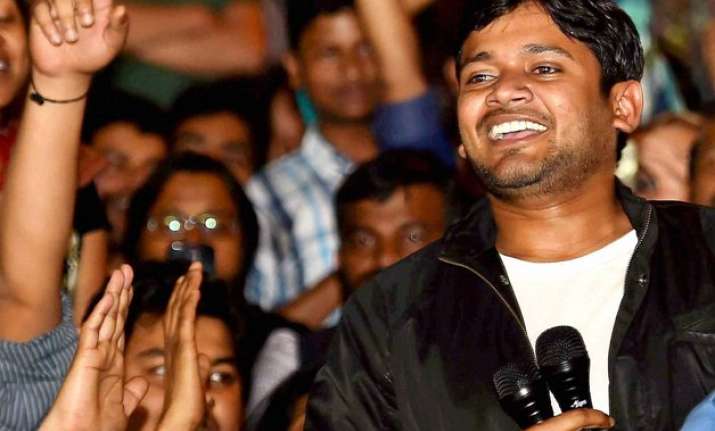 New Delhi: JNU student leader Kanhaiya Kumar today returned to the university campus in a festive atmosphere after being released on bail from Tihar jail. In a fiery sppech vowing to continue his fight against social evils, Kanhaiya said reiterated that he had full faith in the Indian constitution and that the 'azaadi' he seeks is within India, not from it. 
Arrested earlier on charges of sedition in relation to an event where alleged anti-India slogans were raised, Kanhaiya was granted interim bail for six months by the Delhi High Court yesterday.
Addressing a huge gathering of students upon his return, Kanhaiya led an aggressive charge on the government and the RSS, saying the attack on JNU in the aftermath of his arrest was planned and intended to distract the nation's attention from core issues.
Kanhaiya also said that his fight for freedom in India was not from the nation, but from the discrimination, starvation and corruption prevailing in India. Leading a charge against the government, Kanhaiya said that the ruling establishment was anti-people that was out to crush dissent.
"The more you suppress our voice, the stronger we will rise," Kanhaiya told the gathering to loud cheers.
During the course of his one hour, six minute-long speech, Kanhaiya also referred to Modi's narration of an anecdote related to President Nikita Krushchev of erstwhile Soviet Union in the Lok Sabha.
"When he (Modi) was speaking I wanted to tell him to talk about Hitler as well. He should speak about Mussolini as well after all his guru Golwalker (second RSS chief) had met the former... PM talks about Mann Ki Baat but does not listen," he said to loud cheers.
"If you speak against the government, their cyber cell will frame you using doctored videos and count the number of condoms in your hostel," he said. He also dared BJP leader Subramanian Swamy to a debate.
Kanhaiya also responded to arguments that invoke the martyrs of Indian Army in criticising the JNU students protesting against the government.
"I salute those soldiers dying at the borders. But what about farmers committing suicides in abject poverty? Those farmers are the fathers of majority of those soldiers. My father is a farmer, my brother is a soldier. And who is responsible for those wars where they make the supreme sacrifice? People making them fight are responsible. Don't create these false binaries," he said.
In a speech, laced with humour, Kanhaiya referred to his conversations with police inside the prison and said how those personnel, "majority from poor families" seconded his arguments about the need for freedom for corruption and casteism.
Delhi Chief Minister Arvind Kejriwal, who also found mention in his speech along with Rahul Gandhi, Sitaram Yechury and D Raja, tweeted, "What a brilliant speech by Kanhaiya...".
#KanhaiyaKumar became the top trending topic on microblogging site Twitter following the speech. Many students were seen wiping tears during Kanhaiya's address.
Kanhaiya and the students, who gathered in hundreds, also repeatedly raised the 'Azaadi' slogan, seeking freedom from casteism, patriarchy and injustice among others.
Former members of the ABVP's JNU unit, who resigned recently, were also present among the audience.
Here are some highlights of his speech at the JNU campus today:
"Attack on JNU is a planned one as they want to delegitimize UGC protest, and to dilute the fight for justice for Rohith Vemula."
"We have no grudges against ABVP as we are truly democratic people. We truly believe in Indian constitution."
"I want to thank everyone who has stood with JNU."
"I want to thank the people sitting in Parliament deciding wrong and right, the police and those few media channels."
"We truly believe in democracy and Constitution. We don't look at the ABVP as an enemy, we look at them like the Opposition."
"I have many differences with the PM but I agree with his tweet – Satyameva Jayate."
"Let me just say it is not easy to get admission in JNU neither it is easy to silence those in JNU."
"We are not seeking 'azaadi' from India. We want 'azaadi' within India."
"Modiji says his 'Mann Ki Batt', but doesn't listen."