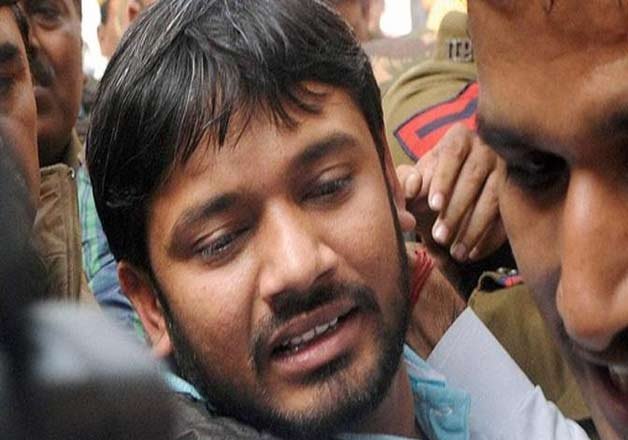 New Delhi: Jawaharlal Nehru University Students' Union president Kanhaiya Kumar, who was yesterday sent to judicial custody till March 2, has been kept at the jail number 3 of Tihar Jail, the same cell where Parliament attack convict Afzal Guru was lodged in.
According to media reports, Kanhaiya was brought here yesterday at around 8 pm amid tight security. He has been kept under tight security inside the prison cell. The toilet is attached inside the ward.
Also the jail officials are keeping a close eye on him through CCTVs. His ward has also a television. 
Reports say that a 12-member quick-reaction team would be deployed around the cell to keep a 24-hour watch. 
An official said that a multi-layer security has been put in place and only prison officials will be allowed near Kahnhaiya's cell. 
His food will be checked as a precautionary measure, the official said, adding that he 'will be checked for suicidal tendencies as well'. 
Security outside the jail has also been intensified.
Meanwhile, the parents of Kanhaiya were today provided police protection in their village in Bihar. Security forces have been deployed at Kanhaiya's native village Bihat in Begusarai district after the JNUSU president was roughed up in a New Delhi court on Wednesday.
"Some police officers in plain clothes have been deployed outside his home, where his parents and other members of the family live. It is being done for security purposes after Kanhaiya was attacked and badly beaten in the premises of a court in Delhi," a district police official said.
Kanhaiya faces sedition charges for raising anti-national slogans at an event in JNU last week, a charge he has denied. He was arrested by the Delhi Police on February 12.
Hours after the assault on Kanhaiya, Bihar Police headquarters alerted Begusarai authorities and directed them to tighten the security cover at his native village.
Kanhaiya's father Jaishankar Singh and his mother Meena Devi live at his native village, considered a stronghold of the Left politics in Bihar.