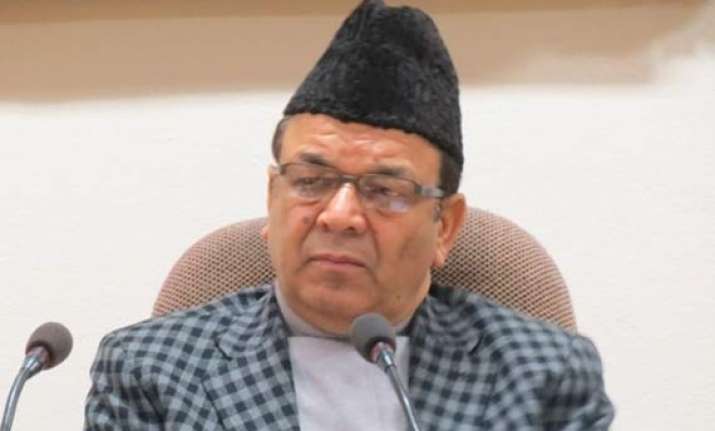 Srinagar: Welcoming Prime Minister Narendra Modi's mega scheme 'Jan Dhan Yojana', the Jammu and Kashmir government today said the ambitious plan was going to be an important milestone for financial inclusion, financial literacy and ongoing Swabhiman campaigns in the state.  
"This programme is a timely step in the right direction for overall economic upliftment of the entire nation in which all its people shall be joining in the efforts of nation building and in turn, in reaping the consequential benefits," state's Finance Minister A R Rather said.
He was speaking at a function organised to launch the Pradhan Mantri Jan Dhan Yojana (PMJDY) in the state.  He assured full support for successfully implementing the programme in the state, hoping that banks and financial institutions would take necessary steps to ensure success.  
The Finance Minister said all commercial banks, led by J&K Bank, have completed 100 per cent coverage of the targeted unbanked villages with a population of 2,000 and above, well within the prescribed time limits. They have so far opened 4.28 lakh new accounts in these 795 villages under the first phase of the 'Swabhiman' campaign.
Under the second phase of the campaign, most of the banks have so far covered around or over 80 per cent of their assigned targets of 5,582 unbanked villages with population below 2,000 persons, he said.
Rather said the targets are required to be met by the end of the current fiscal and exuded confidence that the financial institutions and other commercial banks in the state will deal with the new responsibilities coming up under PMJDY.  He said PMJDY mainly focuses providing a bank account to every household of urban and rural areas, besides providing another bank account to a lady member of each household in the second phase.
"As an immediate advantage to the account holders, the scheme has been imaginatively linked to a personal accident cover of Rs 1 lakh and in case of satisfactory running of the account, to a further benefit of a suitable overdraft facility," Rather said.
He said it is estimated that at present, nearly 40 per cent of the country comprising of 7.5 crore households do not have access to financial services.
Accordingly, the Prime Minister's initiative to increase the level of financial inclusion is highly welcomed.  "In respect of financial services, an equal participative effort is needed from the community members," he said.  
Addressing the function, Union Minister Jitendra Singh said PMJDY is a historic movement for the whole country.  "It is a right decision to ensure economic empowerment of the people especially living in peripheral regions," he said and asked all the stake holders to join hands to make this campaign a grand success.
On this occasion, as many as 30 new bank accounts were opened in favour of the people living in remote and backward areas.