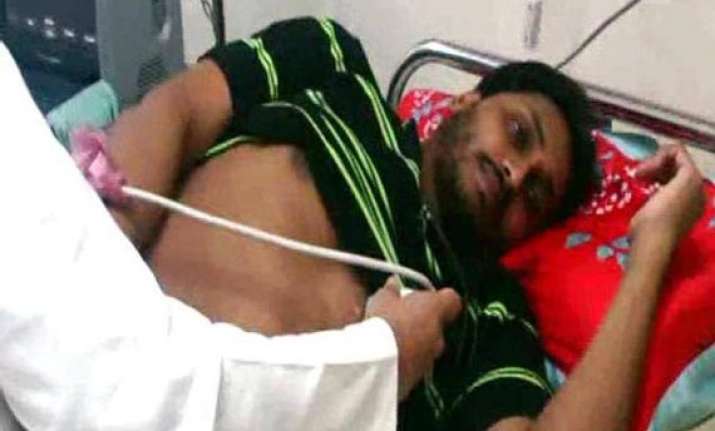 Hyderabad : The health condition of YSR Congress president Y S Jaganmohan Reddy, who was admitted to a government hospital here following a five-day fast, is improving though he suffers from a respiratory tract infection, doctors said here yesterday.
Jaganmohan was shifted to the Nizam's Institute of Medical Sciences (NIMS) by the police on October 9 from his fast camp. He was forcefully given IV fluids with police help that night. He is being given fluids orally and soft diet from last two days.
"Ketone bodies were high on thursday and the situation is improving gradually. Since Jagan has respiratory tract infection, antibiotics are being given. Overall the situation is improving compared to thursday," a doctor told reporters.  Police removed Jagan from his indefinite hunger strike venue as doctors voiced concern over his deteriorating health.  A team of policemen swooped down on Jagan's house in the posh Jubilee Hills area on Wednesday night, lifted him and put him in an ambulance.
The Kadapa MP began his indefinite fast on October 5 in support of "united" Andhra Pradesh and doctors had advised that he should call it off since his blood sugar levels and other parameters were worrisome.
Though Jagan wanted to continue his fast even after being admitted to the hospital, he was forcibly administered treatment in view of his condition.
Jagan had launched a hunger strike on the same issue while he was in jail here last month, and then too, he was forced to break it after he was hospitalised.