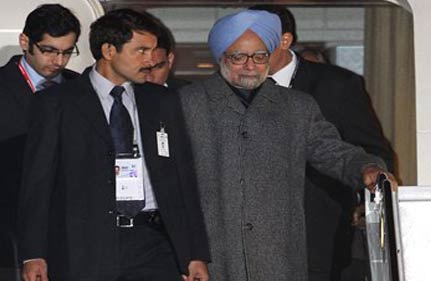 On Board PM's Special Aircraft, Nov 12 (PTI) Prime Minister Manmohan Singh today said it was for the Congreshigh command to "take note" of the offer of support made byAIADMK chief Jayalalithaa in return for the sacking of TelecomMinister A Raja but added "as of now" the alliance with DMKstands.
'This is a subject I am hearing for the first time. It isfor the Congress high command to take note of it. I don't knowwhat Dr Jayalalithaa has offered. We are in alliance with DMKand that alliance stands as of now", Singh told reportersaccompanying him on his return from Seoul where he attendedthe G-20 Summit.
Earlier, when asked what he was planning to do about Raja after the CAG report on 2G Spectrum allocation and the alleged role of the Telecom Minister, the Prime Minister said "Parliament is in session. It is not proper for me to comment on a subject which is also probably in the court".
Unfazed by the political storm over 2G spectrum allocation, the government and DMK chief M Karunanidhi today came out in support of embattled Telecom Minister A Raja who defiantly ruled out his resignation.
As Congress remained in a fix over dealing with the issue in the face of growing clamour for Raja's removal from the Union Cabinet, Karunanidhi insisted that the Telecom Minister had done no wrong and there was no question of his quitting.
'He (Raja) is not a criminal. We are not guilty. He just went by the procedures set by his predecessors Pramod Mahajan and Arun Shourie of the previous NDA Government. What is wrong in that? They came up with 'first come, first served' policy," the DMK chief told reporters in Chennai.
Parliament has been rocked over the last few days on the 2G Spectrum allocation controversy with a combative opposition demanding Raja's dismissal.