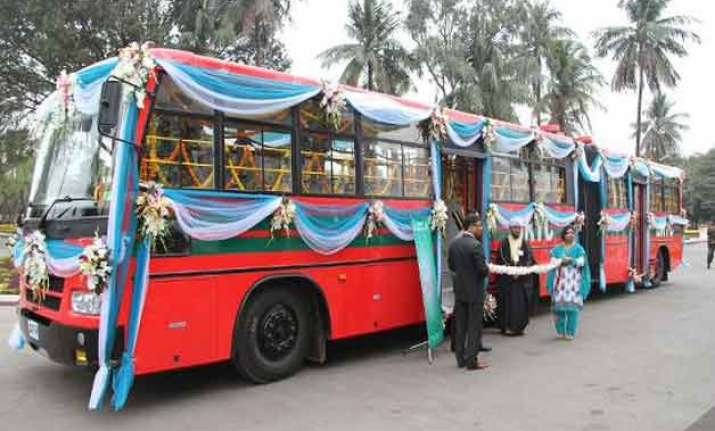 Dawki (Meghalaya):  The Indo-Bangladesh friendship bus that began its journey from Dhaka arrived here today amid tight security.
The 26-seater BRTC bus that left Dhaka with over 20 Bangladesh government officials at around 3 pm yesterday arrived here at 9 am and Meghalaya Transport Corporation Manager Anthony Pariat received the entourage.
Aimed at improving people-to-people contact, the bus is expected to foster friendships and contacts between the residents of the two neighbouring countries and slated to be officially launched next month.
Bangladesh Road Transport and Bridges Ministry Joint Secretary Md Azharul Islam Khan said they halted at Sylhet for the night before resuming their journey at 7:30 am today.
The security and custom checks took nearly three hours causing an additional delay to the journey that should have been completed within nine hours travel time, he told PTI.
Khan said the minor glitches will be worked out between the officials of the two countries and expressed hope the bus would make a daily run in the very near future.
Among the other concerns, according to Khan, was the narrow old iron bridge at Dawki and also the snaky climb up the hills from Dawki onwards where the road is under construction.
The bus passed through Meghalaya state capital, Shillong, about 100 km north of here, at around 3:15 pm and proceeded ahead for lunch of the those on board, at a state-owned resort on the bank of the scenic Umiam lake.
 
Bangladesh Road transport minister Obaidul Quader had flagged off the bus service at the Bangladesh Road Transport Corporation (BRTC) depot.
An agreement and a protocol is due to be signed between the two countries before the services were introduced, another official on the bus said.
Quadar hoped the leaders of both the countries will sign the agreement during Indian Prime Minister Narendra Modi's possible visit next month.
The bus will return to Dhaka on Monday via Shillong again.