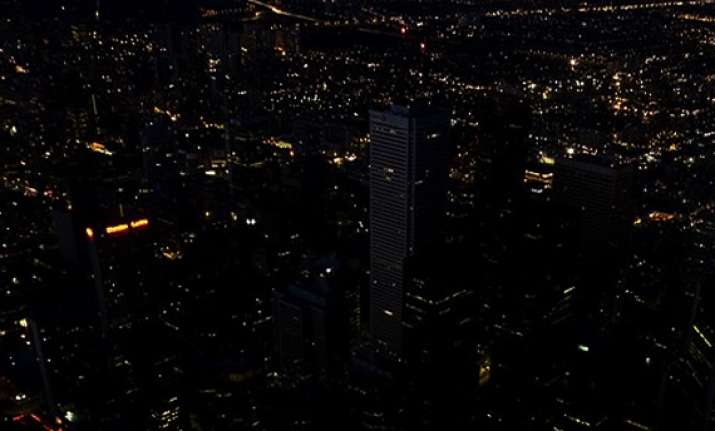 New Delhi, Mar 31:
Delhiites tonight joined millions of people across the globe to observe the Earth Hour by switching off electrical appliances for an hour to pledge support to combat the threat of global warming.
Several shopping malls, hotels and major markets also observed the event marked across major cities of the world annually to pledge support for protecting the environment.
Organised by World Wide Fund for Nature, the 'Earth Hour' is celebrated across major cities of the world on the last Saturday of March annually by turning off non-essential lights and electrical appliances for one hour from 8:30 pm to 9:30 pm.
With almost 50 million supporters across the globe and a network in over 100 countries, the annual 'Earth Hour' initiative has emerged as one of the largest global campaigns to combat climate change.
City Discoms BSES and NDPL had appealed to their consumers to observe the event.
Started in Sydney in Australia in 2007, the 'Earth Hour' had become a global event in 2008 with participation of 35 countries. India joined the Earth Hour campaign in 2009.
To show support for action on climate change, Kolkatans switched off lights tonight and opted for a sustainable lifestyle with candle-night dinners.
Besides hotels, bars, restaurants, shopping malls and stores, a number of other private organisations also went dark for an hour from 8.30 pm to spread a symbolic message that it is possible to take action on global warming.
Being organised by international body WWF, the Earth Hour campaign is supported by various corporate houses, organisations, civil society groups, the Kolkata Municipal Corporation (KMC) and West Bengal government's environment department.
Mayor Sovan Chatterjee flagged off a tram tableaux decked up with 'Go Green' messages at Curzon Park. Volunteers, activists and KMC officials took a 7 km round through the city in the eco-friendly tram to spread awareness and inspire individual action towards a better environment.
Luxury hotel chain Park Hotels went dark at all their properties across the country saving around 5000 KW of energy.
Special lights and smoke-free candles were placed in the rooms to be used in emergency situation. Candlelight dinners were organised in restaurants and 'Earth cocktail' served at bars to create a  buzz and to excite the guests towards the cause.
Besides private offices and stores like Oxford Bookstores, many people in the city switched off lights, ACs, refrigerators at home for the hour and enjoyed with candle light with their family.
Among celebrities, Bengali actress Rituparna Sengupta also pledged her commitment to the cause.
"Together, we can make Kolkata the Earth Hour Champion, showcasing the power of individual action behind a common cause. I will switch off for Kolkata, and encourage
citizens to do so as well," she said in her message.
In the nearby Hooghly district, the municipal corporation of Chandernagore also participated in the international conservation event.
In India, Earth Hour has reached more than 130 cities, including tier II and III, small towns and even villages. Whichever city receives maximum participation from its citizens, organisations, institutions and government will be declared the Earth Hour Champion.
Sachin Tendulkar
has been appointed as the national brand ambassador of Earth Hour.