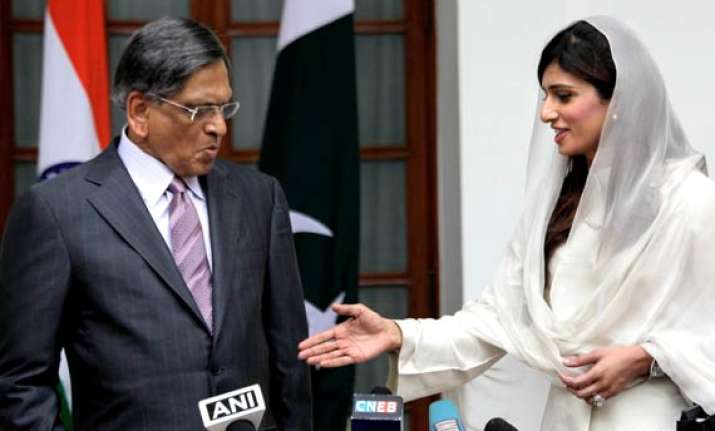 New Delhi, July 27:  India and Pakistan on Wednesday agreed on "additional measures on cross-LoC (Line of control) travel and trade between both sides of Kashmir, External Affairs Minister S M Krishna said after  formal talks with Pakistan Foreign Minister Hina Rabbani Khar at Hyderabad House here.
 
Krishna said: "On Jammu and Kashmir, we will continue discussions with a view to finding a peaceful solution by narrowing divergences and building convergences. Meanwhile, for the welfare of the people on both sides of the LoC, we have announced additional measures on cross-LoC travel and trade".

The External Affairs Minister said, India and Pakistan have decided to resume the work of  Joint commission on trade.

"We have agreed that increase in trade and economic cooperation between the two countries would be mutually beneficial and have noted with satisfaction the outcome of the Commerce Secretary level talks held in Islamabad in April 2011.In this context, we have decided to resume the work of the India-Pakistan Joint Commission", he said.

Both Foreign Ministers will meet in the first half of 2012 to review the progress made in bilateral talks.

Krishna said:  "The talks were held in a cordial and positive atmosphere. We have had detailed and fruitful exchange of views on all issues of mutual interest and concern. We have reviewed the progress in the dialogue process since its resumption in February 2011. We have also deliberated on the way forward".

He said he was satisfied with the progress achieved in this round of the resumed dialogue.
 
India had suspended talks with Pakistan after the 26/11 Mumbai terror attacks.

"The outcome has been beyond our expectation. We have reaffirmed our commitment to resolve all outstanding issues through a comprehensive, serious and sustained dialogue. While being fully cognisant of the challenges that lie ahead, I can confidently say that our relations are on the right track", said Krishna.
 
"We have some distance to travel, but with an open mind and a constructive approach, which has been demonstrated in this round of dialogue, I am sure we can reach our desired destination of having a friendly and cooperative relationship", Krishna added.

On her side, Pakitan Foreign Minister Hina Rabbani Khar said, it was important to sustain the momentum of dialogue between both countries and have a "people-centric" approach.

"There has been a change in the mindset of people and political parties in Pakistan about India", Hina Rabbani Khar said.
 
She particularly mentioned the loud applause given to the Pakistani contingent at the Delhi Commonwealth Games, saying that it was significant that Pakistan contigent after India got the loudest applause at the Games opening ceremony.