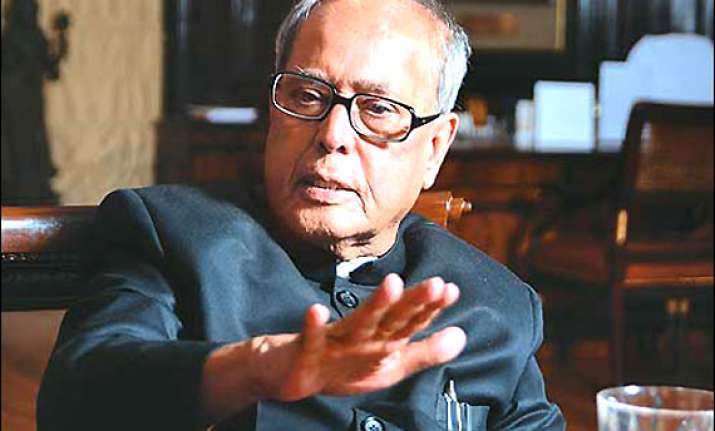 Jangipur, West Bengal, Jul 20: Finance Minister Pranab Mukherjee's Jangipur constituency is going to get its 22nd bank branch within a span of  last three years, but no business worth the name, reports The Economic Times.

The latest public sector bank which is going to open its branch in Jangipur is Oriental Bank of Commerce, the 22nd bank branch here since 2008 when Mukherjee took charge as Finance Minister.

Not only this, as anybody enters Kolkata airport, he is greeted with large public sector bank ads with Pranab Mukherjee waving his hand at the visitors.

Jangipur, a district sub-division of 18 lakh people and an economy driven by wages from bidi rolling, has become the cynosure of bankers with over 20 bank branches inaugurated here since late 2008, but there is hardly any business for most of them.

Public sector UCO Bank which opened a branch here in January 2010, has managed business of Rs 3.75 crore only so far. Union Bank, during its one-and-half-year stay, has clocked business of Rs 3 crore, the ET report says.

"The new industries are yet to make an impact insofar as overall economic development is concerned. So, it becomes difficult for new branches to make a mark while the old branches are doing well," says Anjan Sarkar, senior branch manager with Bangiya Gramin Vikas Bank , a regional rural bank with a dozen branches in Jangipur.

Even as state-run banks wait for business, the rural bank and microfinance institutions are doing very well, owing to the peculiar economic profile of the constituency.

Bangiya Gramin Vikas Bank, which has been operating in the town since 1976, sees transactions worth 44 crore a year, compared with just Rs two to three crore for public sector banks.

While the rest of the country is starved of institutions that would promote financial inclusion, in Jangipur municipality area, it is a problem of plenty.

This is what a former public sector bank official says : "It is the duty of any politician to usher in development agencies in his constituency," says KC Varghese, former chairman of Union Bank of India.

"And when such agencies go there, it's their duty to contribute with the financial power they have in their hands. They should create and expand the market by financing economic activities."

More than a third of Jangipur's population rolls bidis, and average wages are about Rs 46 for 1,000 bidis made, which leaves hardly anything to be deposited in a bank.

A good portion of the population has migrated to cities seeking employment since the farmlands are inundated by canal water from the Ganga, which is at a higher level than cultivable lands.

Besides bidis, Jangipur produces handloom silk and Khadi products. But this sector is facing a shortage of funds despite the rise in the number of bank branches.

The area has good horticulture potential with abundant mango farms and good litchi production, but the absence of processing plants is crippling business.

Not only is grinding poverty a grim reality in Jangipur, bidi workers also face serious health hazards. The town suffers from lack of healthcare, sanitation, electricity and drinking water.