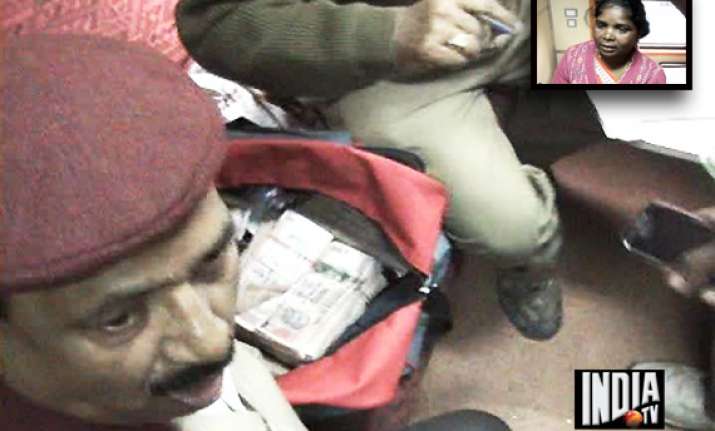 Malda, West Bengal, Jan 20: Seema Roy, a female cleaner  working at Malda Town railway station today found a bag containing Rs 23 lakh cash  under a seat in the first class compartment of Gour Express, which runs from Sealdah to Malda in the loco shed.

The 41-year-old lady who earns hardly Rs 9,000 a month has to look after her two sons. She found the wads of currencynotes stuffed inside a bag under the seat.

Seema said she unzipped the bag, peered inside and then cried out. "I became  nervous, how can someone leave behind such a huge amount of cash?

"I started shouting on  seeing the bag under the seat of the AC first-class compartment. Other cleaners then rushed in. I went to the GRP and handed over the bag. I want the money to reach the person who had left the bag by mistake in the train compartment," she said.

Had Seema wanted, she could have easily walked out with the bag as employees are not checked at the exit. But she repeated: "I sincerely hope the rightful owner gets it back."

Till Friday evening, no one had claimed the money, which cleared the fake-currency test at a local bank.

Seema said her husband, a railway Group IV employee, had died of asthma in 2007.

"I was grateful that the railways gave me a job as a cleaner. My eldest son Pintu is 24 and unemployed. My younger son Sentu will appear for his Madhyamik examinations this year. My daughter Pinki has married a youth in the locality we live in," Seema said.

According to Malda Town rail police, the money would be handed over to a court from where it can be claimed after furnishing proof.