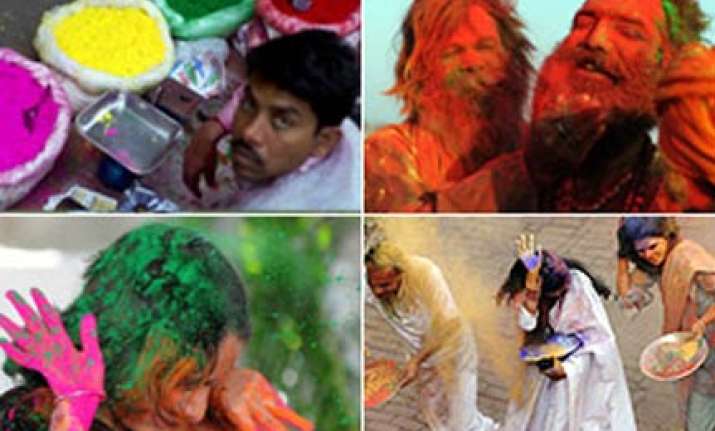 Clothes were dyed with myriad hues as hugs and embraces were exchanged in lanes and bylanes to mark Holi, the festival of colours, which was celebrated with gusto and bonhomie in many parts of the country on Monday.
People across the country celebrated the festival of fun and frolic in its usual grandeur and danced to the beats of drums. The streets wore a multi-colour look as revellers came out of houses to join the festivities.
In the national capital the day passed off peacefully. The police had issued warning against playing hooliganism in the guise of revelries.
In Uttar Pradesh, no untoward incidents were reported on the occasion, police said.
The colours of 'gulal' brightened up the streets of Mathura as lakhs of pilgrims came to the land of Lord Krishna to join the festivities. Devotees gathered in large numbers in Vrindaban, Goverdhan, Nandgaon, Barsana, Gokul, Baldeo and Mathura -- the places attached with the legend of Holi played by Krishna and Radha Rani.
Tight security arrangements were put in place in the area. Policemen in plainclothes were deployed at all the major temples.
The festival, however, had a gruesome start in Maharashtra as three people were electrocuted in Thane late last night. The incident happened in Virar area as electric poles erected fell on people enjoying a bonefire. PTI