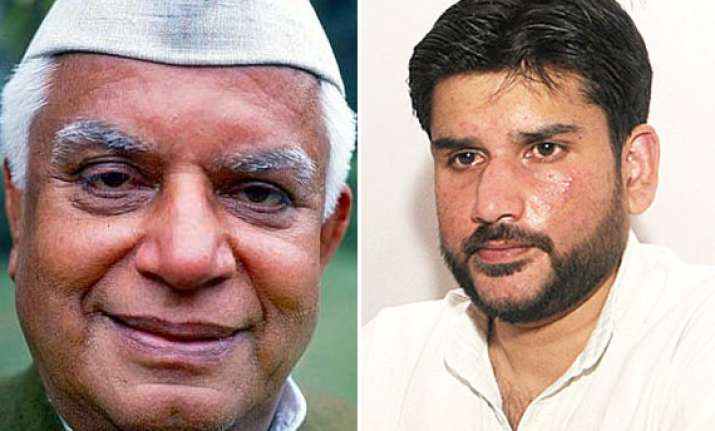 New Delhi, Nov 15: Rohit Shekhar, who claims to be the biological son of veteran Congress leader N D Tiwari, today filed an appeal in the Delhi High Court challenging its single judge order exempting Tiwari from giving his blood sample for DNA test to decide a paternity suit.
 
In the appeal against the September 23 order, Rohit contended the judge has failed to consider that if 85-year-old Tiwari is not compelled to submit his blood sample in compliance with the court's earlier order, it would be difficult for him to get justice.

"The single judge failed to satisfactorily deal with high-handed and dismissive conduct of Tiwari," a former chief minister of UP and Uttarakhand, said 31-year-old Rohit. Tiwari is also a former governor of Andhra Pradesh.
 
"The court also failed to appreciate that an adverse inference can never have the same effect as a conclusive scientific determination of paternity," he submitted.

Rohit said, "With each passing day, the possibility of getting justice is fading out on account of the apprehension of a very critical evidence being lost forever..."

A bench headed by Justice S K Kaul, before which the appeal came up for hearing, transferred the matter to another bench and fixed November 22 as the next date of hearing.
 
Justice Gita Mittal had on September 23 ruled, "Tiwari cannot be physically compelled or confined for submitting a blood sample for DNA profiling to implement its December 2010 judgement."

At the same time, the judge also recorded that his (Tiwari's) persistent refusal can lead to the presumption that he is his father.

"The impact of this refusal by Tiwari while evaluating the evidence produced by parties ...may be treated as corroborative evidence leading to the presumption that the result of DNA profiling of the defendant's blood sample would have supported the plaintiff's (Rohit's) claim (of being Tiwari's biological son)," Justice Mittal had said in the order.

The court's order had come on Tiwari's plea challenging the December 23, 2010, order of the high court which had asked him to give his blood sample for DNA test. 

Tiwari had on June 1 refused to appear in the high court dispensary to give his blood sample for DNA test to ascertain Rohit's claim of being his biological son, saying he cannot be forced to do so.

Refuting Rohit's claim, Tiwari had challenged the high court's single judge order before its division bench which too had rejected his appeal, following which he had gone in for an appeal in the apex court on February 28. 

But, the apex court had on March 14 refused to stay the high court's order for his DNA test. However, in a relief to him, the court had said the result of the test will not be made public unless it is required.