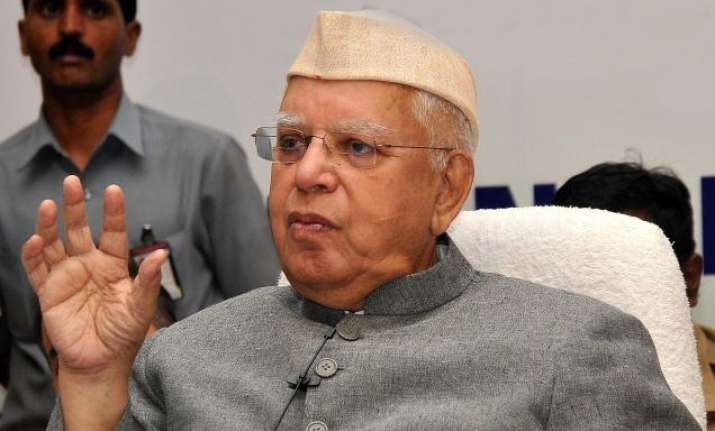 New Delhi :The Delhi High Court on Friday dismissed senior Congress leader N D Tiwari's plea seeking deletion of certain paragraphs from the lawsuit filed by a youth claiming to be his biological son, saying that it would lead to the "omission" of entire matter.  "This court is satisfied that the application of Tiwari is unmerited," Justice S Ravindra Bhatt said.  "Omission of the facts will contribute to omission of entire matter which is not acceptable," the judge said.  The court also imposed a cost of Rs 75,000 on 84-year-old Tiwari.
This amount would be paid to Rohit Shekhar who has filed the suit claiming to be the biological son.  The court posted the matter for further hearing on September 21.  Tiwari had sought deletion of the paragraph from the suit in which Shekhar had alleged that the veteran leader avoided meeting him at the Delhi Airport when he made an attempt in 2005.
Responding to the paternity suit, Tiwari had contested the authenticity of the documents and photographs produced before the court, allegedly reflecting the relationship of the former Andhra Pradesh Governor with the Shekhar's mother.  Earlier, the leader had refused to undergo a DNA test and denied ever having any physical relationship with the petitioner's mother.  In an affidavit filed in the court, Tiwari had hit back at the woman Ujjwala Sharma, who is also a Congress leader, and her son, saying, "He did not have and never had any physical relationship with her.  "The plaintiff (Rohit) is not entitled to seek a DNA test as a matter of right. The same is contrary not only to the law but also to equity," he had said.
"To say that he developed a liking for her (Ujjwala) and that after 8-10 years they entered into a relationship, is scandalous and defamatory," the former Chief Minister had said.  "The plaintiff (Rohit) is not my son. The question of acknowledging anything as alleged is denied. Every allegation/insinuation is denied," he had said, adding he was a devoted husband during that period.
Tiwari had to resign as Governor of Andhra Pradesh after he was purportedly shown in a sting operation to be in a compromising position with three women.  The High Court had also rejected Tiwari's plea for dismissal of the petition on the ground that it was filed 31 years after the petitioner was born in order to malign his character. PTI