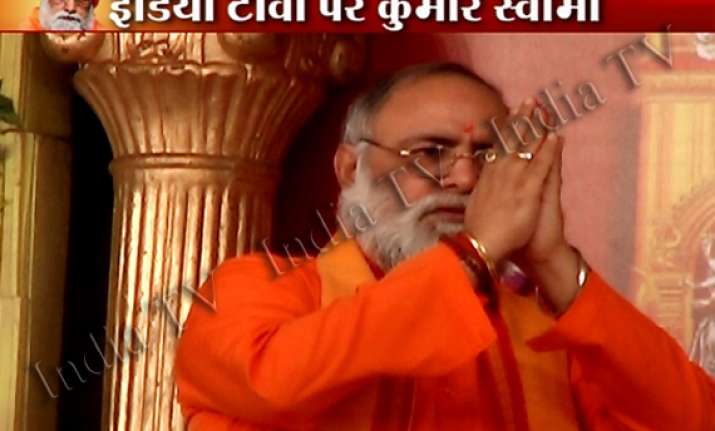 New Delhi, Jun 26: The self-styled godman Kumar Swami, embroiled in controversies, clarified on India TV that he never claimed to have cured patients with the help of 'beej' mantras.
Earlier on TV shows, the self-styled godman had claimed to perform miracles and cured patients with the help of 'beej' mantras but he claimed that the mantras were helpful in determining the career of the unborn babies.
He also rubbished charges that he took hefty money from his devotees. He claimed that the money was collected to pay the purohits who were performing poojas for them.
Kumar Swami's devotees include actors who performed the roles of Ram (Arun Govil), Laxman, Yudhisthir(Gajendra Chauhan), Arjun (Feroze Khan) in the Ramayana and Mahabharata serials.
Among the devotee politicians, BJP MP from Amritsar ex-cricketer Navjot Singh Sidhu once promised to spend Rs 50 lakhs from his MP Local Area Development Fund on  baba's beej mantra research.
Kumar Swami was felicitated by New York State Senate in the presence of 60 state senators on May 2, 2011 and by the British House of Commons.
Kumar Swami was K.K.Nagpal till 1986 living in 5/120, Sant Nirankari colony, Delhi.  He has named his palatial house Laxmi Dham, and his wife has been named Gurumata, who appears with the baba in all his gatherings.
The house in Sant Nirankari colony is manned by security guards with cctv cameras round the clock to shoo off unwanted intruders.
Kumar Swami also has his office in C-27, Greater Kailash, Part I, Delhi.  The swami has addressed  more than 298 samagams(gatherings) so far and he will be addressing his 300th samagam in Delhion July 2 and 3.
His son runs his Arihant Industries and has a fleet of expensive cars. He spends a leisurely time in seven-star deluxe hotels and is often seen with women.