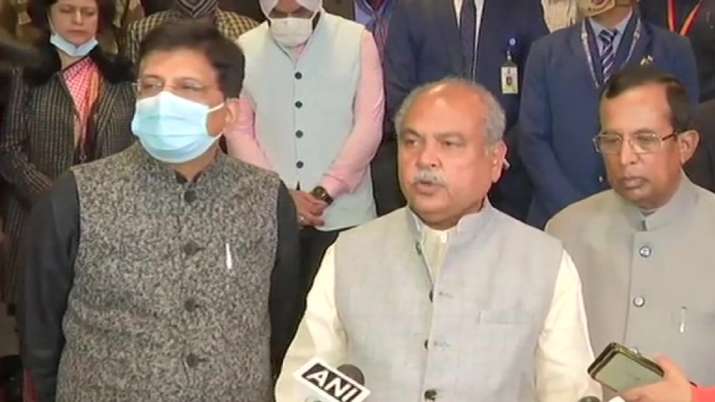 After the 5th round of Centre-farmers talks on Saturday, Union Agriculture Minister Narendra Singh Tomar once again assured farmers that MSP will continue and that there is no threat to it. However, the talks remained inconclusive once again and it was decided that the next meeting will talke place on December 9.
Speaking after 5 hour long meeting with farmers, Narendra Singh Tomar said, "We've told farmers that the government will consider all their aspects. It would've been easier for us to find a solution if we get suggestions from farmers' leaders... We request Kisan unions to send elderly and children back home in wake of Covid and cold weather."
"I'd not like to comment on program of Unions. But I'd like to urge farmers and Unions to leave path of agitation and come to path of discussion. Government has had several rounds of talks with them and is ready for further discussion for a solution," Agriculture Minister said on Bharat Bandh call by farmers on December 8.
Narendra Singh Tomar further added, "I want to assure farmers that Modi government was fully committed to you, and will remain so in future. Under PM Modi's leadership, several agricultural schemes have been implemented. Budget and MSP has also increased."
"Farmers should keep faith in Modi governent that whatever will be done, it will be in their interest. I want to thank Farmers' unions for maintaining the discipline... Since talks couldn't be completed today, we've called for another meeting on December 9."
"I want to request protesting farmers to give up their movement so that they don't face inconvenience in this cold weather & citizens of Delhi can also live a life of convenience," he added.
"We have said that the MSP will continue, there is no threat to it. It is baseless to doubt this. Still, if someone is suspicious then the government is ready to resolve it," Tomar mentioned.
"We don't intend to affect the mandi in the states, they are not affected by the law either. Government is ready to do anything in its power to further strengthen APMC. If anyone has any misconception regarding APMCs, then government is absolutely ready to clarify it." Tomar added.
ALSO READ | Nothing but hypocrisy: BJP slams Canada's stand on ongoing farmers' protests
During the talks today, both sides remained adamant on their stand over the three contentious farm laws.
Heated arguments and written placards in "Yes or No" were raised in the five-hour meeting that began at 2 pm at Vigyan Bhawan in Central Delhi. After multiple obstacles, the talks finally ended with no conclusion as the farmers stuck to their first and major demand to repeal the three farms laws enacted in September during the Monsoon Session of Parliament.
As the government could not put up a satisfactory solution to the demands of 40 farmer union leaders, who took part in the meeting, the delegation clearly communicated that the protest will continue if the government doesn't repeal the three laws which they said are "anti-farmer".
While the government was agreeable to amendments to The Farmers Produce Trade and Commerce (Promotion and Facilitation) Act, 2020; The Farmers (Empowerment and Protection) Agreement of Price Assurance and Farm Services Act, 2020; and The Essential Commodities (Amendment) Act, 2020, farmers were pushing for the scrapping of these laws.
ALSO READ | Farmers go on 'maun vrat' during talks with Centre; wanted 'yes' or 'no' answer to their demands