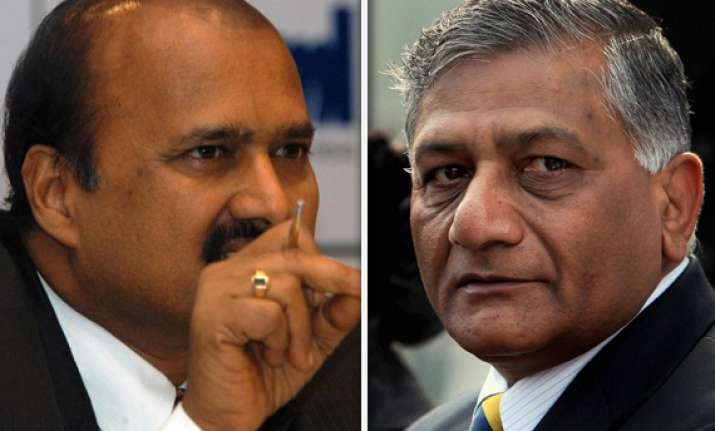 New Delhi, Jun 6:
The Defence Ministry today sought an explanation from BEML chief V R S Natarajan for serving a legal notice on former Army Chief Gen V K Singh demanding an apology for his alleged defamatory statements against the defence PSU on the Tatra truck issue.
"Defence Ministry categorically denies giving permission to BEML Chief to serve a legal notice for filing a defamation suit against Gen V K Singh," Defence Ministry spokesperson Sitanshu Kar said here.
He said the Ministry has "asked Natarajan to explain as to why he made such a statement to the media." Gen Singh, who retired on May 31 after holding the post of the Army Chief for over two years, had alleged in March that he was offered a Rs 14 crore bribe by a former officer to clear supply of a tranche of 600 Tatra trucks from BEML. CBI is investigating the case.
On June 1, a day after Gen Singh retired from office, the BEML Chief had held a press conference in Bangalore asking the former army chief to apologise for alleged "defamatory" statements against the company and its products.
"The former army chief has made some allegations against BEML. As the CEO of the company, I deny them as absolutely false, motivated, damaging and defamatory", Natarajan had said.
However, the former army chief had refused to apologise to BEML saying that he had just stated the facts.