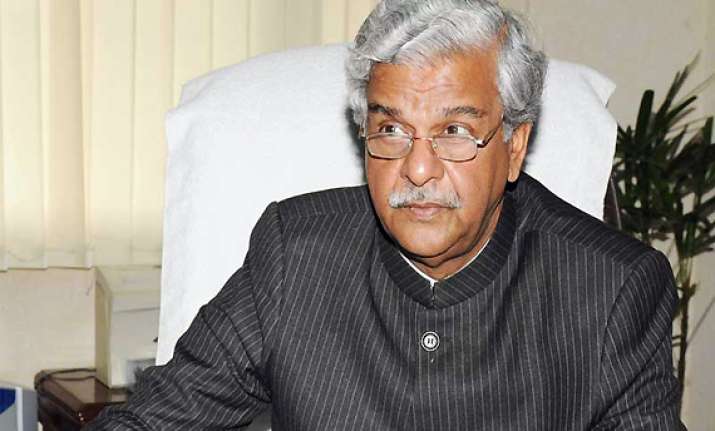 New Delhi, Mar 1: Giving a clean chit to Coal Minister Sriprakash Jaiswal on his President's Rule comments, the Election Commission today said his tone and tenor did not suggest any threat or intimidation to voters.

"The Commission is of the view that the tone and tenor and context of the impugned speech of Shri Jaiswal do not suggest any threat or intimidation to voters," the Commission said in its order.

"...the Commission is satisfied that Shri Sri Prakash Jaiswal, Union Minister of Coal had no intentions of threatening or intimidating the electors by making the impugned statement and has decided not to pursue the matter," it said.

The EC gave the clean chit to Jaiswal after deliberating on the issue at its meeting held today, and after considering his reply and seeing the CD of the video recording of his remarks.

The Commission had slapped a notice on him for his President's Rule comments made in Kanpur on February 23 after casting his vote there and had sought his reply on the prima facie charges of model code violation against him.

Jaiswal had said, "if Congress gets majority, then it will form the government... In case we don't get clear majority, we will sit in the opposition and I see no alternative but Governor's rule."

In his reply given to the Commission yesterday, Jaiswal had denied the charges in the notice served on him and stated that his President's Rule statement was distorted and claimed that he never threatened the voters.

The EC, in its notice served on him earlier, had held prima facie that his comments on imposition of President's Rule in Uttar Pradesh was a threat to voters and violation of Model Code of Conduct, and had asked him why action should not be initiated against him.

Jaiswal, in his reply, said that when a media person asked him about the situation arising out in case the Congress did not get a majority, he had replied to him that "we will get a clear majority, but in case our numbers fall short, then there will be no alternative but to impose Governor's Rule."

The Coal Minister said he has not threatened that the President rule shall be imposed in the state.

The Minister was initially asked to submit his reply on the Commission's notice by February 27, but he had sought two more days which was granted by the Commission.

Expressing happiness over the Commission's clean chit to Jaiswal, AICC's legal and human rights secretary K C Mittal said the minister never intended to threaten or intimidate any voter. He said the Commission is also satisfied so.