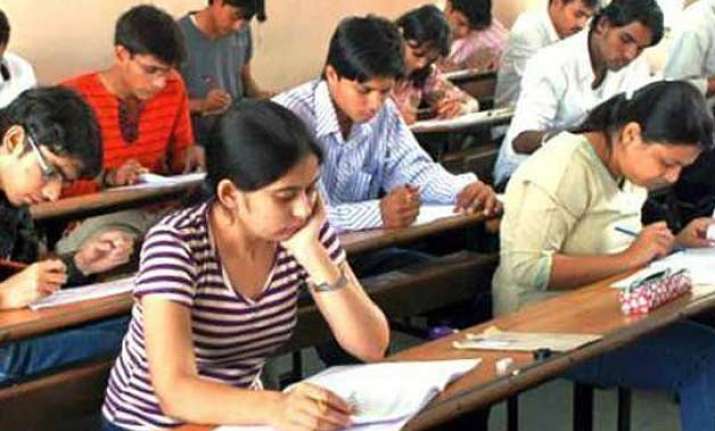 Bhopal:  As Madhya Pradesh battles the ramifications of the multi-crore Vyapam scam, a top state examination body today cancelled the July 12 examinations for admissions to private dental and medical colleges, with a whistleblower threatening to names judges allegedly involved in a scandal relating to it.
A day after Madhya Pradesh High Court directed The Association of Private Dental and Medical Colleges (APDMC) to scan OMR answer sheets of each of the candidates who will write the Dental and Medical Admission Test (DMAT) on July 12, the apex body today postponed the scheduled examination.  
"The exam was postponed because of technical reasons," APDMC Chairman, Dr V K Mahadik told PTI.  APDMC conducts DMAT exam for granting admission to private dental and medical colleges of Madhya Pradesh.
The emerging DMAT scandal comes close on the heels of a raging controversy over the massive admission and recruitment Vyapam scam on which the Supreme Court yesterday ordered a CBI probe.
"For ensuring completion of all technicalities involved in the examination we need more time and therefore, decided to postpone it," the Chairman said.  
The APDMC has also put out a notice on the issue on its official website. It also said that the new date for the exam shall be notified separately.
A bench of MP High Court comprising the Chief Justice AM Khanwilkar and Justice KK Trivedi yesterday directed the APDMC to scan the answer sheets of the candidates appearing in the 2015 Dental and Medical Admission Test (DMAT) in all the nine examination centres of the state.
DMAT-2015 will be conducted in various examination centres across the country, including nine centres in MP.  
The HC ordered the Principal Secretary, Home department, Principal Secretary Medical Education department, the Secretary of the Admission and Fees Regulatory Committee (AFRC) and the President of APDMC to keep one set each of the scanned OMR answer sheet copies of the nine DMAT examination centres.
The postponement also assumes significance in view of number of petitions pending in the High Court and Supreme Court on the issue of alleged irregularities in the DMAT exam.  
Whistleblower Dr Anand Rai, who has also filed a petition in Supreme Court demanding CBI probe into the alleged DMAT scam, was also a leading a campaign on the Vyapam scam.
"It (DMAT) is a major scam in which 43 per cent private college quota seats and 15 per cent NRI quota seats were sold off by violating rules and regulations."
"I will be submitting in a sealed cover names of members of judiciary also who were the beneficiaries of this scam to the Supreme Court soon." Besides, Rai also alleged that 721 seats of the state quota in these private colleges were sold off for a hefty amount between 2010-2013.
State Congress President, Arun Yadav in a press conference last month had alleged irregularities in admissions to private medical colleges in the state and claimed its beneficiaries included relatives of politicians, judges, IAS and IPS officers.