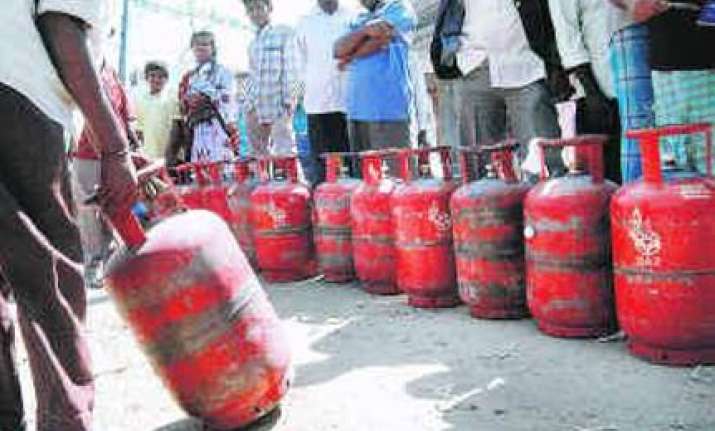 Delhiites will have to shell out more from their pockets for virtually everything from cooking gas to diesel with Delhi government on Monday withdrawing subsidy on LPG and increasing VAT on many items to "generate" additional revenue. 

Presenting the budget amid vociferous protests by opposition BJP, Finance Minister A K Walia announced the withdrawal of the Rs 40 subsidy on LPG cylinders for domestic consumers besides an increase in VAT for diesel and CNG.

He also proposed increase in VAT on various items like desi ghee, house-hold plastic items, kerosene stoves, wood, inverters, tea, coffee locks, lanterns, fertilisers, and all utensils and cutlery items including pressure cooker.  With an increase on the VAT from 12.5 per cent to 20 per cent, diesel will now cost Rs 35.29 per litre in the capital. At present, it costs Rs 32.92 per litre.

A five per cent tax has been imposed on the Compressed Natural Gas (CNG), the fuel used for public transport like buses and auto-rickshaws. At present, there is no VAT on CNG.  Noting that there has been an increase in expenditure in last two years on Commonwealth Games related projects and schemes, Walia said, "our revenue collection through taxes has not been adequate due to recession.

Therefore, it has become essential to look for measures to generate additional revenue to sustain development."  Presenting a Rs 26,000 crore budget, Walia said the highest allocation went to transport sector which has been given Rs 4,224 crore as against last budget's allocation of Rs 3,069 crore.

Opposition BJP MLAs were on their feet as soon as Walia announced the increase in VAT rates. They staged a walkout when Walia announced the subsidy on LPG cylinders.  Leader of Opposition V K Malhotra later told reporters that BJP is planning agitation against the increase in VAT rates. 

"The government has betrayed the trust of its residents. We are planning to launch an agitation as well as gherao of Assembly," Malhotra said.  Claiming that the retail prices of food items in the capital were the lowest as compared to many other metros like Mumbai and Chennai, Walia said as against an increase of 12 per cent in Mumbai and 15 per cent Chennai, the capital has registered an escalation in prices by 11.3 per cent only.  He also noted there was an increase of 6.85 per cent at tax collection front as compared to last fiscal. 

"The current year's revised target of tax revenue is Rs 13,174 crore which is eight per cent higher than previous year. Next year's target tax revenue is Rs 15,582.50 crore with a growth of about 18 per cent over the current year," he said.  On the transport sector, 1,475 more low floor buses will be purchased before August for which Rs 675 crore has been allocated. Walia also announced the launch of a GPS based vehicle tracking system to make online bus information system operational.  The DTC will also introduce a special non-stop service on 50 important routes. 

Government has also set aside Rs 749 crore in the budget for development of basic services in the unauthorised colonies. It has already invested Rs 2,851 crore in these colonies.  The old age pension scheme will be extended to 3.5 lakh people from existing 2.5 lakh. Besides this, it has allocated Rs 46 crore for giving pension to widows.  In the budget, Walia also proposed the setting up three 200-bedded hospitals in Vikaspuri, Burari and Ambedkar Nagar and another 750-bedded hospital at Dwarka. 
Delhi Chief Minister Sheila Dikshit  justified withdrawing subsidy on cooking gas and hiking tax on a range of items, saying the government did not have any option but to take these measures after the Centre drastically cut down its assistance to the city. 
Asked whether the Government will consider rolling back withdrawal of subsidy on cooking gas and hike in taxes on certain items, Dikshit ruled out reviewing the proposals but indicated that if the Centre allocates substantial amount of funds to the city then there may be a relook at it. 
"We have requested the Centre for additional funds. As of now there would not be any review of the proposals. But if we receive substantial amount of funds from the Centre then we would be happy to pass it on to the residents," Dikshit told PTI.
Dikshit said the Government had to take these measures to mop up additional funds as it was facing a serious fund crunch following Centre substantially reducing its assistance.  In its Rs 26,000 crore budget, Finance Minister A K Walia proposed to raise VAT on a whole range of products including diesel and high-end mobiles and withdrew the Rs 40 subsidy being given on each cooking cylinder to fetch an additional Rs 1,100 crores to raise funds for the Commonwealth Games.
"I would appeal to the residents to understand our position. We need money for the Commonwealth Games. I am sure people will extend their cooperation to the government," she said. 
The Chief Minister described the budget as "development oriented which will further increase economic activities in the city."  Justifying withdrawal of subsidy on cooking gas, Walia said no BJP ruled states have given the subsidy on LPG.  "We extended the subsidy when the price of LPG shot up. Now the rate has come down and we are withdrawing it," he said. PTI