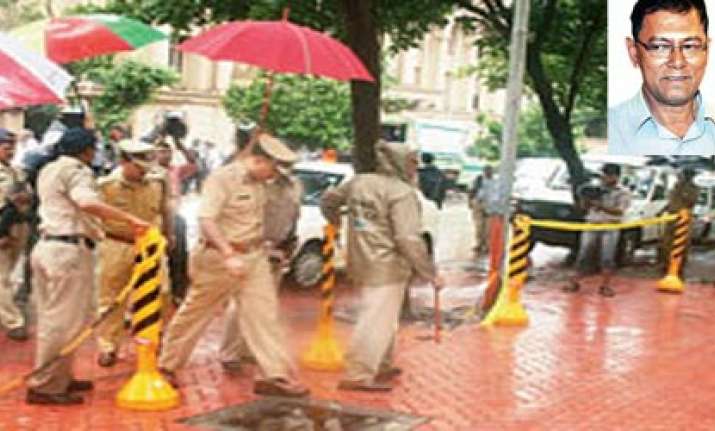 Mumbai, Jun 13 : The killers of senior journalist J Dey waited for nearly three and a half minutes outside the pizza shop and suddenly headed for the bike as they saw Dey walking, reveals the chilling CCTV footage of the scene seconds before the murder, reports Mumbai Mirror. 

The report said, footage from several CCTV cameras has pieced together the chilling story of how Dey was followed by his assailants and murdered in broad daylight

Police have found a clip of around four minutes from one of the cameras installed near HSBC Bank in which two of the assailants can be spotted parking their bike and waiting outside a pizza joint.

"They wait for three and a half minutes outside the pizza shop and suddenly head for their bike."In the same frame we can see a bike with a pillion rider passing by,with Dey behind it."The guys who were waiting outside the pizza shop start tailing him.

"The pillion rider on the bike ahead of Dey wearing a white t-shirt keeps turning back, as if to check if he is behind them."It is obvious from the video that the bikers ahead of Dey and behind him are connected,"said an officer requesting anonymity.At a certain point the biker in front let Dey overtake him and began tailing him.


At the High Street junction, the trio turn right, at which point they go out of the coverage area of the cameras.The footage is not clear enough to capture faces clearly or vehicle numbers.

Sources revealed that the camera installed outside Spectra's main gate shows how over a dozen people kept gazing at the road,at around the same time that the shootout took place.

"Several people saw the entire episode but no one came forward to help us.But now with the fresh footage as evidence we will question them and ask them to give us any input that could help us identify the accused,"said another officer.Police have also found the documents that J Dey photocopied minutes before his death.

This includes a courier receipt addressed to a marketing manager with Philippines tourism department and two photocopies of his passport.That the underworld may have been roped in to execute the daring murder is established by the evidence gathered by Crime Branch.

Initial investigations point to the fact that a.32 bore revolver may have been used to bump off the reporter.A.32 bore revolver is often used by underworld shooters for close-range firing.

"Before Dey reached Crisil House,the two shooters trailing him joined the ones waiting for him and then shot him dead at point-blank range.The shooters were very professional and it seems they have done such jobs earlier too,"said an officer from Crime Branch.

Another officer,who examined Dey's body, said, "There are nine wounds on his body. Five entry wounds and four exit wounds suggest five shots were fired of which four exited his body.

"All entry wounds had blackness around them suggesting point blank firing. Also, no empty cartridges were found at the spot."All this suggests that a high velocity weapon with low calibre bullets was used for the murder which fits the description of a.32 bore revolver."

However,officers have failed to establish any motive on the part of the underworld."No journalist has ever been killed in this city for doing a story."In fact,no matter how negatively the underworld is portrayed,the operatives ultimately stand to gain from the publicity.

"Also if J Dey had to be killed for his reports,he should have been killed in the late 90s when he extensively covered the underworld in its heydays.

"We are looking at a personal enmity with someone local that seems to have culminated in this shootout.It does not look like a shootout ordered by a don from abroad,"said a Crime Branch officer.

In fact, the agency believes someone with a personal agenda gave his supari and told the shooters that he should not escape alive at any cost.

"We have questioned several people close to him and also checked his house,his belongings,documents and his laptop.

"None of the people questioned said that he was working on any story that entailed any danger.Nor did he express such fears to anyone.But then he was generally reticent.

"We are seriously looking at J Dey's brush with some local underworld figure who may have got this murder executed at a personal level,"said a senior officer, adding a certain oil mafia kingpin by the name of Sadruddin is also being questioned.

Meanwhile, an analysis of Dey's call data records for Friday and Saturday has been inconclusive.

"All his calls have been made to family, friends, colleagues and professional contacts. However, we will be analysising data for the past 15 days to reach any conclusion,"said an officer.

Mumbai Crime Branch has formed four different teams to investigate the case and several of officers have already dashed out of town following clues.

Crime Branch chief Himanshu Roy told Mumbai Mirror,"Though we have nothing concrete in hand,we have certain clues that we are seriously chasing.Many people are being questioned and we hope to crack this case very soon."