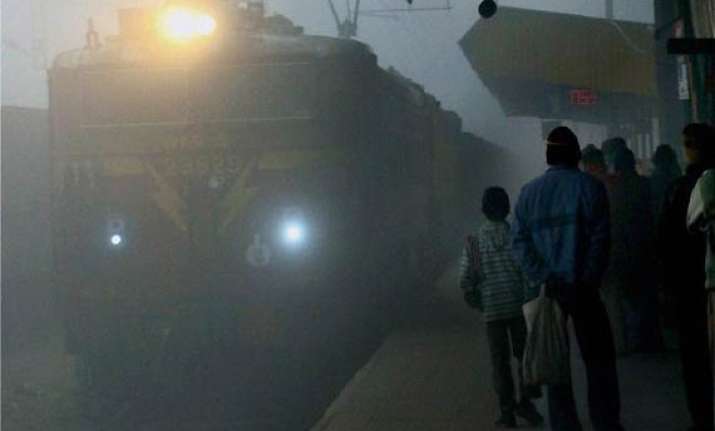 New Delhi, Dec 8: Owing to the dense fog, services of 66 trains were affected today causing inconvenience to passengers.
While Jansadharan Express is running late by 14 hours, Mahabodhi Express is 13 hours behind schedule.  Vikramshila Express, Sampurna Kranti Express and Magadh Express are running late by more than 11 hours due to the fog.
There are as many as 31 trains which are running late.  Departure timings of nine trains including four Rajdhani trains were revised while 26 trains including Lichchavi Express, Janata Express and Ujjaini Express were cancelled in view of the weather condition.
Arrangements have been made to provide water and medicines at stations for stranded passengers, said a senior Northern Railway official.
As a precaution, railways have given instruction to loco pilots to run trains at slow speed during the fog.

UPDATED POSITION OF TRAINS DUE TO FOG (18.45 HRS ON 8.12.11)

NORTHERN  RAILWAY

 

 

 

 

NEW DELHI

 

 

 

 

Dated: 08.12.2011                             Time 18.45 hrs.

RESCHEDULING OF TRAINS DUE TO FOG

 

 

 

 

 

 

 

 

TRAIN NO.

TRAIN NAME

FROM

TO

SCH. DEP.(HRS.)

RE.SCH. DEP(HRS.)

14258

KASHIVISHWANATH EXP

NEW DELHI

VARANASI

11.40

13.30

12310

RAJDHANI EXP

NEW DELHI

 

 

19.15

12388

JANSADHARAN EXP.

ANAND VIHAR

RAJENDER NGR

14.30

21.50

12368

VIKRAMSHILA EXP.

NEW DELHI

BHAGALPUR

14.40

20.00

12302

RAJDHANI EXP

NEW DELHI

HOWRAH

17.00

20.50

12314

RAJDHANI EXP

NEW DELHI

SEALDAH

16.30

20.45

12394

SAMPURAN KRANTI EXP.

NEW DELHI

RAJENDER NGR

17.30

19.30

12398

MAHABODHI EXP.

NEW DELHI

GAYA

14.10

18.10

12818

JHARKHAND S.J. EXP.

DELHI JN.

HATIA

19.40

21.15

22812

RAJDHANI EXP

NEW DELHI

BHUBANESHWAR

17.20

21.00

 

 

 

 

 

 

LATE RUNNING OF TRAINS MORE THAN ONE HOURS DUE TO FOG IN DELHI AREA

TRAIN NO.

TRAIN NAME

FROM

TO

SCH. ARR.(HRS)

LATE BY  (HRS.)

12367

VIKRAMSHILA EXP.

BHAGALPUR

ANAND VIHAR

7.40

11.00

12393

SAMPURAN KRANTI .

RAJENDER NGR.

NEW DELHI

8.35

11.15

12401

MAGADH EXP.

ISLAMPUR

NEW DELHI

11.45

11.30

12561

S.SENANI EXP.

DARBHANGA

NEW DELHI

12.30

9.00

14205

FAIZABAD DLI EXP

FAIZABAD

DELHI

9.35

2.30

12427

REWA NDLS EXP

REWA

NEW DELHI

6.45

15.00

12225

KAFIYAT EXP

AZAMGARH

DELHI

7.00

4.30

12309

RAJDHANI EXP

RAJENDER NGR.

NEW DELHI

7.45

6.45

64151

ALIGARH DELHI EMU

ALIGARH

DELHI JN

17.00

1.30

12815

PURI EXP.

PURI

NEW DELHI

17.00

9.30

14083

MAHANANDA EXP.

ALIPURDWAR

DELHI JN.

18.05

10.30

12505

N.E. EXP.

GUWAHATI

ANAND VIHAR

19.15

7.00

12311

KALKA MAIL

HOWRAH

DELHI JN.

20.45

6.00

12819

ORRISA S.K. EXP.

BHUVNESHWAR

NEW DELHI

20.50

9.00

12487

JOGBANI EXP.

JOGBANI

ANAND VIHAR

20.50

4.30

18101

MURI EXP.

TATA NAGAR

DELHI JN.

21.35

3.30

12387

JANSADHARAN EXP

RAJENDER NGR.

ANAND VIHAR

8.10

14.00

12301

RAJDHANI EXP

HOWRAH

NEW DELHI

9.55

7.45

12313

SEALDAH RAJDHANI

SEALDAH

NEW DELHI

10.20

7.45

12501

POORVOTTAR EXP

GUWAHATI

NEW DELHI

13.00

10.00

12559

SHIVGANGA EXP

VARANASI

NEW DELHI

7.40

8.00

12033

SHATABDI EXP

KANPUR CENTRAL

NEW DELHI

11.10

2.45

12397

MAHABODHI EXP

GAYA

NEW DELHI

5.00

13.45

12381

POORVA EXP

HOWRAH

NEW DELHI

7.20

8.00

12423

RAJDHANI EXP

DIBRUGARH

NEW DELHI

10.10

6.15

22811

RAJDHANI EXP

BHUVNESHWAR

NEW DELHI

10.35

7.30

12439

RAJDHANI EXP

RANCHI

NEW DELHI

10.50

7.30

12817

JHARKHAND SJ EXP

HATIA

DELHI JN.

14.00

9.00

14315

INTERCITY EXP

BAREILLY

NEW DELHI

10.05

2.00

12419

GOMTI EXP.

LUCKNOW

NEW DELHI

14.00

3.45

4203

VARANASI SPL

VARANASI

DELHI JN

10.10

4.00

14673

SHAHEED EXP

JAYNAGER