Follow us on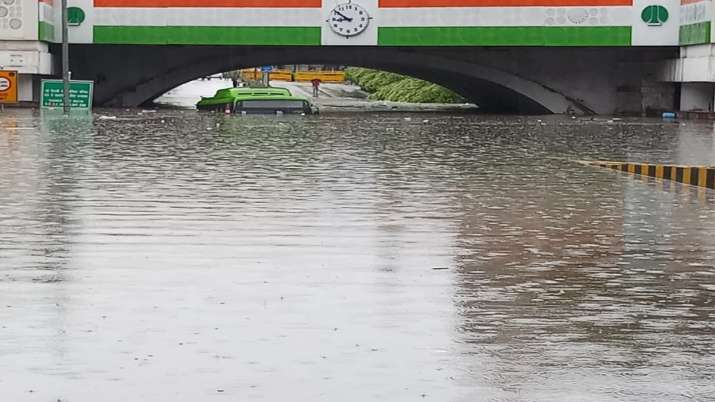 One driver has died after his mini-truck submerged in water under the Minto Bridge in heart of Delhi following heavy rains in the Delhi-NCR on Sunday. Following heavy downpour in the national capital today, Minto Bridge near New Delhi Railway Station witnessed severe water-logging in which two buses got stuck including a DTC. A video of the water-logged Minto Bridge surfaced showing the bus submerged into the water while the fire department was rescuing people on-board bus. 
The man, identified as Kundan Kumar, was a resident of Pithoragarh, Uttarakhand. He was driving a Tata Ace from the New Delhi Railway Station to Connaught Place when he got stuck in the waterlogged area, they said. A railway official Ramniwas Meena took out his body.
His body has been shifted to a mortuary at Ram Manohar Lohia Hospital wherein it will be handed over to his family after post-mortem.
Police said they suspected that he died due to drowning since no external injury marks were found on his body. Inquest proceedings have been initiated in this regard, PTI reports. 
A video shows fire Department personnel rescue people on-board a bus that was stuck in a waterlogged road under Minto Bridge following heavy rainfall in the national capital on Sunday morning.
A call regarding the stranded vehicles at the Minto Bridge underpass was received around 7.54 am. A team from the Delhi Fire Service was rushed to the spot for rescue work, Atul Garg, Director, Delhi Fire Service, said. "A DTC bus and two autos were trapped due to water-logging.
The driver and conductor of the bus and an auto driver were safely rescued by our personnel. There was no passenger in the bus," he said.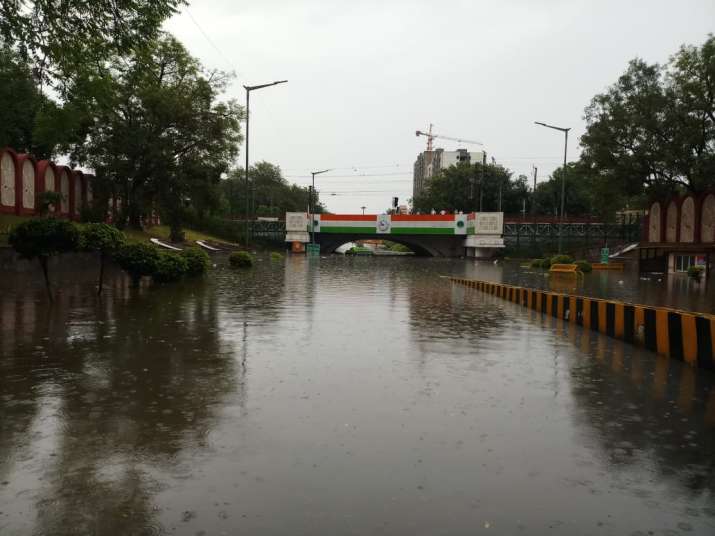 Recurring issue at Minto Bridge
Waterlogging at the concave railway underpass (Minto Bridge) during the rainy season is a recurring issue. Incidents of vehicles getting stuck and people being rescued have been reported in the past as well. The national capital woke up to heavy downpour on Sunday morning as heavy rains lashed the national capital, Noida, Gurgaon, and other NCR regions. Rains that started in the wee hours on Sunday turned into intense spells leading to water-logging in several areas.
Meanwhile, the Indian Meteorological Department (IMD) has predicted for more rains in Delhi-NCR region. In a tweet, IMD informed, "thunderstorm with rain would occur over and adjoining areas of many places of entre Delhi and NCR, Noida, Gr. Noida, Hissar, Jind, Gohana, Gannaur, Panipat, Rohtak, Bhiwani, Jhajjar, Sonipat, Bagpat, Gurugram, Bulandsahar, Ghaziabad, Faridabad, Nuh, Bhiwadi."
ALSO READ | Delhi Rains: Delhites wake up to heavy downpour; major waterlogging reported from across NCR