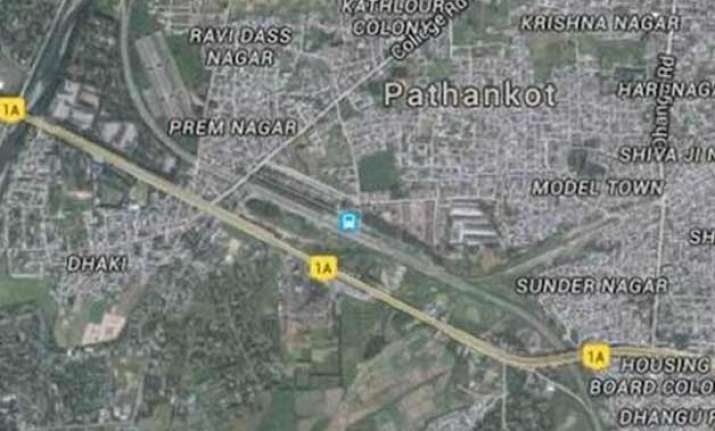 Pathankot: In an indication that the peace process between India and Pakistan is no bed of roses, suspected Pakistani terrorists today staged an attack on the Air Force Base in Punjab's Pathankot in the wee hours of Saturday.
The attack triggered a fierce encounter which lasted about five hours. Three Indian Air Force men were martyred in the gunbattle while another six security personnel were injured.  
As per latest reports, five attackers with suspected Pakistani links, have been gunned down by security forces. At least five militants believed to be from the Jaish-e-Mohammed terror group, launched the attack with an aim of destroying the air base, a top security official said.
As the combing operations in the region continue, the attacks have acted as a strong reminder to the Parliament Attack in Delhi in 2001 and the horrific 26/11 offensive in Mumbai. In the past few years, most terror attacks emanating from Pakistani soil have been limited to the state of Jammu and Kasmir.
Here, we bring to you reasons that could explain why the attackers chose this region for a rare terror offensive against India outside of Kashmir.
* The Pathankot Air base, which falls under the Amritsar region of Punjab, has great political, economic and strategic significance.
* Pathankot, which is close to the border of Punjab, Jammu and Kashmir and Himachal Pradesh, is instrumental logistics support for forces in Jammu and Kashmir, including Ladakh.

* Pathankot district also borders Pakistan and is home to an army base beside the air base.

* The Pathankot Air Force base, which falls under the IAF's Western Command, provides an essential operational range for deep air raids into Pakistani territory.

* The area has been accorded immense importance not just by India but also by Pakistan in war plans and has played a key role in the wars between the two sides. For India, the entire region serves is key to its defence against infiltrations from the other side of the border. It also provides a perfect depth for any Indian aerial offensive, if need be.

* In the 1965 war, Pakistan staked its only strategic offensive operation with an advance from Kasur in Pakistan to conquer all the Indian territory west of the Beas and Sutlej. This attempt was foiled by Indian forces in the critical battle of Khemkaran.
* The region, including Pathankot and Amritsar, is a hub of communications and various rail and road routes lead to it from Pakistan.
* The important highways include the Grand Trunk Road, the Lahore-Khalra-Amritsar road and the Kasur-Khemkaran-Amritsar road from the south. Highways in the north include the Quila Sobha Singh-Ajnala road across the Gil ferry and the Narowal-Dera Baba Nanak road over the Ravi.
* The air base houses India's MIG-21 fighter aircraft as well as 18 wings of the Indian Air Force.
* Moreover, the air base is also home to the families of Air Force officials who reside inside the compound.