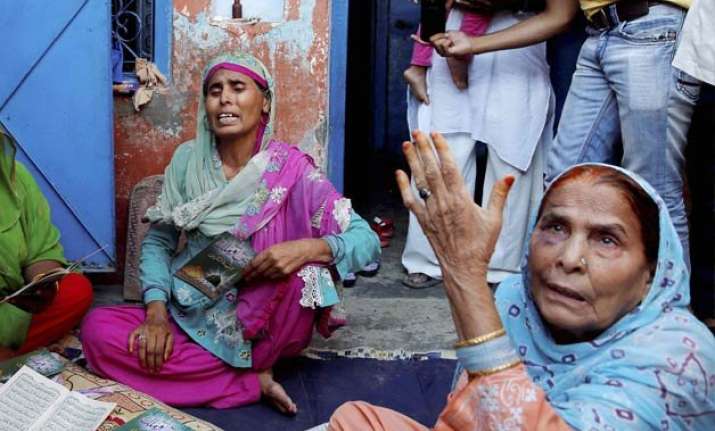 New Delhi: The family members of 50-year-old Mohammad Akhlaq, who was killed last week over beef rumours in Dadri, has been moved to an Air Force station in Delhi.
A Hindustan Times report suggested that the family was moved to Subroto Park, which houses the Western Air Command, on Monday night.
The report also claimed that when Mohammad Sartaj, Akhlaq's elder son -- an IAF corporal, was asked about the same, he refused to confirm the development.
"My family is in the village (Bisada). I have not decided as yet whether to take them to Chennai. The village is their home. Right now, I am focused on the condition of my brother and his treatment," he told HT.
On October 3, Air Force Chief Arup Raha had assured the victim's family of full assistance. He had also said that the IAF was ready to move them to a safer location.
Sartaj further said that instead of ensuring justice to his father, people are playing politics with the tragedy.
"My father's death has become a subject of politics. Instead of understanding our pain, politicians are more concerned about their politics. My family is patriotic. This is the reason I joined the Air Force. Communal harmony is the essence of democracy. Our nation is known for communal harmony. I appeal to people to not disturb the peace," he said.
Meanwhile, situation in Bishada village is gradually limping back to normalcy with shops reopening and villagers returning back to their routine life.
District Magistrate N P Singh along with SSP Kiran S visited Bishada and nearby villages to take stock of the situation in the area.
The district administration has also formed six peace committees to maintain communal harmony in the area. Elderly people and other distinguished persons from both communities of the village are members of the peace committees.
Akhlaq was beaten to death last week over rumours that he and his family was eating and storing beef.