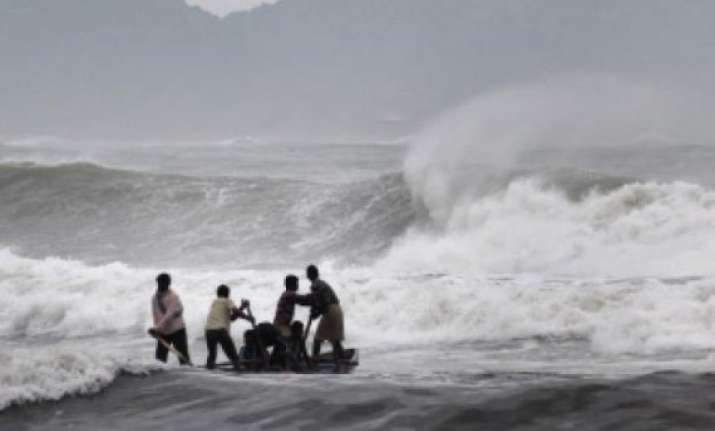 New Delhi: Cyclone Hudhud is all set to hit the eastern coast of India today. Hudhud, a very severe tropical cyclonic storm, is steadily heading towards the eastern coast carrying high wind speeds. The cyclone will first make landfall near Visakhapatnam today forenoon and then in Gopalpur.
As the NDRF and other forces have prepared themselves for the dreaded cyclone, more and more people are being evacuated. India Meteorological Department (IMD) has estimated the cyclone to make landfall near Andhra Pradesh Vishakhapatnam coast in the Andhra Pradesh on Sunday afternoon while Odisha coast will also be severely affected.
Lakhs of people are being evacuated from towns and villages through which the cyclone will pass amid massive rain and wind. The cyclone is similar to last year's Phailin that crossed the Odisha coast leaving behind a trail of destruction.
The tribals, residing in inaccessible forests in Baipada, Churipada, Gajipadara and Tumuripadar hamlets under Kudumulguma and Oring panchayat areas, were evacuated on war footing ahead of the landfall of the very severe cyclonic storm, Project Administrator of Integrated Tribal Development Agency (ITDA) of Malkangiri, Ramakrushna Gond said.
44 NDRF teams and 12 teams of the state Disaster Rapid Action Force have been deployed in 10 districts of Odisha. There is a very real threat of flash floods as extremely heavy rain is expected.