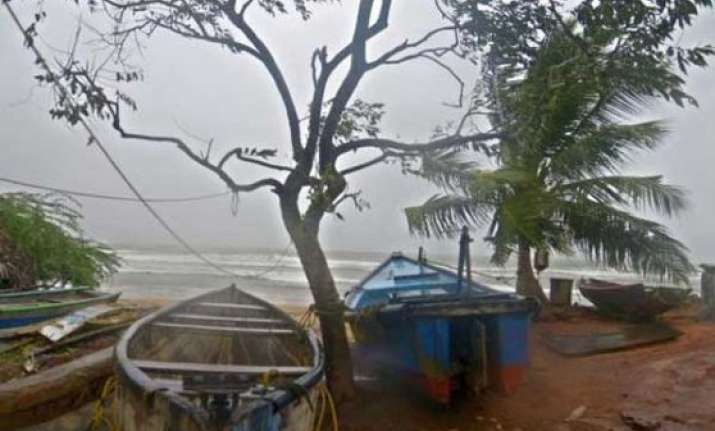 New Delhi/Hyderabad: Severe cyclonic storm Hudhud has struck the Andhra Pradesh coast, the Met department said here today.
Two persons were killed in separate rain-related incidents in Visakhapatnam and Srikakulam districts of coastal Andhra Pradesh as the very severe cyclonic storm Hudhud triggered heavy downpour in the region.
One person was killed when the compound wall of a building collapsed in Visakhaptnam district. Another person died in Srikakulam district when a tree collapsed following pounding rains, according to state disaster management department.
At the time of landfall, the winds were (approx) 170 to 180 km per hour (kmph) and brought very heavy rainfall in the coastal area.
The strong winds and heavy rains led to large-scale disruption of power lines in three coastal districts of Andhra Pradesh.
"Except East Godavari, power entirely failed in the three districts of Visakhapatnam, Vizianagaram and Srikakulam (which are expected to bear the brunt). There were gale winds. The situation is very severe. National Highway in the region has been shut," Special Commissioner, State Disaster Management Authority, K Hymavathi earlier said.
Tens of thousands of people had been evacuated from vulnerable areas of the four districts.
Andhra Pradesh government has identified 356 villages in 59 mandals of the four districts as cyclone-prone. More than 300 relief camps have been opened.
As many as 19 National Disaster Response Force (NDRF) teams (each consisting of 45-50 members) were deployed in the four districts.
Army columns are positioned at Visakhapatnam and Srikakulam with power boats and other equipment for rescue and relief. Six helicopters have been positioned in the Naval base at Visakhapatnam.
The Indian Air Force (IAF) has tasked Headquarters Training Command, Bangalore to be the nodal agency for all relief operations in connection with severe cyclone Hudhud.
Some electrical poles and trees were uprooted in Visakhapatnam and Srikakulam districts which also reported power breakdown following heavy rains.
"Wind speed was 170-180 kmph in both the districts," an official said.
Telecom network also failed following which a control room in Visakhapatnam failed to operate, officials said.
According to the disaster management department, 320 villages in 44 mandals (blocks) are likely to be affected by the cyclone.
The authorities have evacuated 90,013 people across the four districts of Srikakulam, Vizianagaram, Visakhaptnam and East Godavari.
Chief Minister N Chandrababu Naidu is reviewing the situation arising out of the cyclone from the Andhra Pradesh Secretariat here, an official release said.
In a separate release, the state government has appealed to the people to remain indoors during the 30 minutes after the cyclone hits the coast around noon.