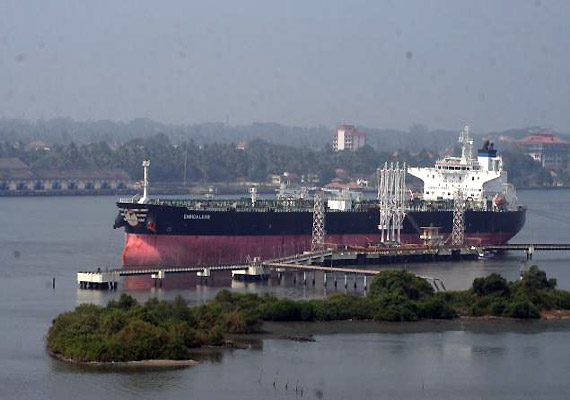 Kochi, Mar 29: The Kerala High Court on Thursday allowed Italian ship M.T. Enrica Lexie, detained off Kochi in the wake of the killing of two fishermen by marines on board, to sail out of the Indian waters and continue its voyage, according to The Hindu.
Justice P.S. Gopinathan directed the police to permit the ship to sail, on its agent furnishing a bond for Rs. 3 crore before the Deputy Conservator, Cochin Port Trust, and an undertaking that the vessel, master, and the crew would be produced as and when required by the Centre, Deputy Conservator, and Mercantile Marine Department (MMD).
The court passed the verdict while allowing a writ petition filed by the agent of the ship seeking permission of the court to continue its voyage. It also made it clear that the verdict would not interfere with the course of investigation now under way.
The clarification came when Advocate General K.P. Dandapani submitted that if the other marines on the ship were found involved in the case on getting the Forensic Science Laboratory (FSL) report on the use of firearms, the police had to take them into custody.
Opposing the release, the Advocate General said further investigation would have to be conducted if the report of the FSL went against the two marines. Therefore, he sought the permission of the court to take the marines into custody if needed.
The judge pointed out that it was pertinent to note that the investigation officer had not seized the vessel when the writ petition was filed before the High Court on March 9.
However; the police filed the seizure report only on March 26 before the magistrate court concerned.
The court observed that the Supreme Court had time and again cautioned that vessels and vehicles seized in connection with the investigation should not unnecessarily be detained, causing loss to the owner of the vessel or vehicle. Besides, as alleged by the agent, the vessel had been anchoring off Kochi since February 15.
In these circumstances and in view of the apex court observations, it would be appropriate to release the vessel, the court observed.
The petitioner pointed out that the customs and MMD had granted their sanction for allowing the ship to continue its voyage. Besides, the police had also completed its investigation.
The MMD said in its statement that the ship need not be detained as all evidence had been collected during an inquiry ordered by the Director General of Shipping.
The petitioner also said that the master and the crew had cooperated when the investigation agency searched the vessel and seized arms and ammunition of the naval personnel.
A bank guarantee of Rs. 3 crore ordered by the High Court in two compensation suits had also been furnished. The authorities were wilfully delaying clearance for the ship to sail out, the petitioner alleged.