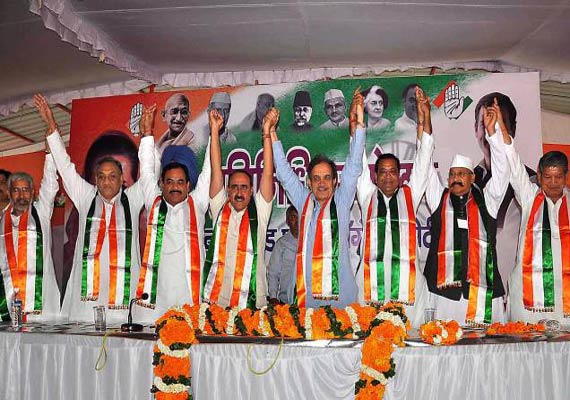 Dehra Dun, Mar 9: Factional feud within Congress and certain conditions put up by Independents, who hold the key to government formation, have created hurdles in the CLP leader's election in Uttarakhand.

In the 70-member House, Congress has 32 MLAs - four short of majority - with three Independents and one MLA from UKD(P), helping the party to reach the magic figure of 36.

Sources said groupism within Congress was delaying the process of choosing the Congress Legislature Party leader.

"It is due to severe groupism that Congress high command is now sending observers to elicit views of the newly elected party MLAs," a Congress leader said.

Congress general secretary Chaudhary Birendra Singh said, "Observers will come tomorrow to take views of the MLAs."

The party appears to be divided into three to four camps headed by Union Minister Harish Rawat, former Union Minister Satpal Maharaj, senior leader Vijay Bahuguna and PCC chief Yashpal Arya.

"I want Maharaj to be the CM," Anusuiya Prasad Maikhuri, Congress MLA from Karnprayag, said.

Besides, Leader of the Opposition in the previous House Harak Singh Rawat and senior leader Indira Hridayesh were being projected as the new CLP leader.

In 2002 also, severe infighting between loyalists of N D Tiwari and Harish Rawat had created problems for formation of the Congress government.

Congress sources said party rebel from Devprayag, Mantri Prasad Naithani, who won as Independent, backed Maharaj.

"I have conveyed to Sonia Gandhi that Satpal Maharaj should be the new CM," Naithani said.

He, however, denied that he wanted to become the chief minister.

"This is a propaganda by rival groups," he said.

Naithani said he would like the government to create Devprayag as a new district and expressed his willingness to rejoin Congress.

Independent MLA from Tehri, Dinesh Dhanai, batted for Bahuguna, saying, "He has all the abilities to lead the state."

Harish Chandra Durgapal, Independent MLA from Lal Kuan, is understood to have told the Congress high command that Hridayesh should hold the top post, the sources said.