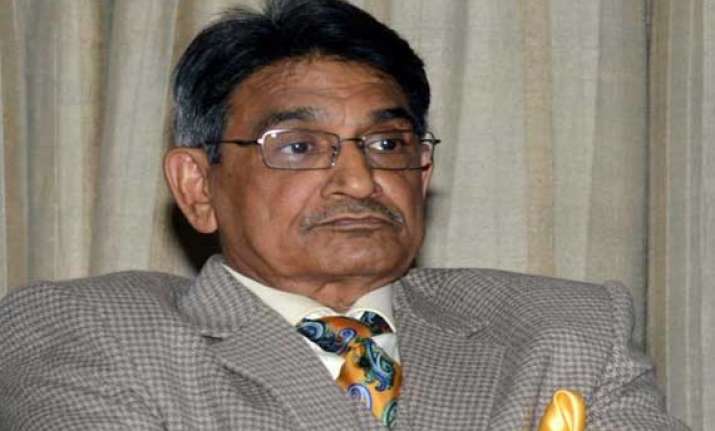 New Delhi: Dispelling doubts of lawyers' bodies on his proposal to increase court's working hours to reduce pendency of cases, Chief Justice of India RM Lodha on Monday said that the proposal was successfully first tried in Patna High Court when he was heading it.
Justice Lodha said that after getting Bar Associations of Patna High Court into confidence, he had increased working hours of the HC by half an hour and for subordinate courts by 45 minutes to one hour which led to large number of disposal of cases.
The CJI, who had served High Court from May 13 to December 17, 2008, expressed "dismay" on that practice being scrapped after he left the High court on being elevated to the apex court.
"The 365-days working proposal, which the Supreme Court Bar Association (SCBA) had rejected was first conceptulized at Patna High Court, during my stint as chief justice," Justice Lodha said.
Speaking at a function to bid farewell of Justice Chandermouli Prasad, who retired on Monday, he praised Prasad's contribution in making that proposal of increased working hours successful.
"During my stint as chief justice of Patna High Court, I had found that there were more than 30,000 bail applications pending before the court. I had then asked my fellow judge Justice Chandermouli Prasad to talk to the Bar Associations for increasing the working hours of court."
"I was surprised, when the very next day Justice Prasad came up to me with three letters saying that Bar Associations have agreed to increasing the working hours of court," said Justice Lodha.
Justice Lodha said the practice of increased working hours of courts abruptly ended once he moved out of the Patna High Court.
"In India everyone knows, institutions are individual based and once I left the Patna High Court, the increased working hours to my dismay were done away with and they all reverted back to the old time schedule," added Justice Lodha.
Justice Prasad shared his experience and said that it is never easy to become a 'great' judge.
He advised the Bar to take up the cases of death convicts. "During my stint as Supreme Court judge, I have found that many lawyers does not wish to take up the cases of death convicts. I urge the members of Bar that this practice should be done away with and cases of death convicts should be take up so that no innocent goes to the gallows," said Justice Prasad.
Attorney general Mukul Rohatagi lauded Justice Chandermouli Prasad saying that his two recent judgements one on stopping immediate automatic arrest of husbands under anti- dowry act and other on holding that Fatwa has no legal sanctity will go a long way.