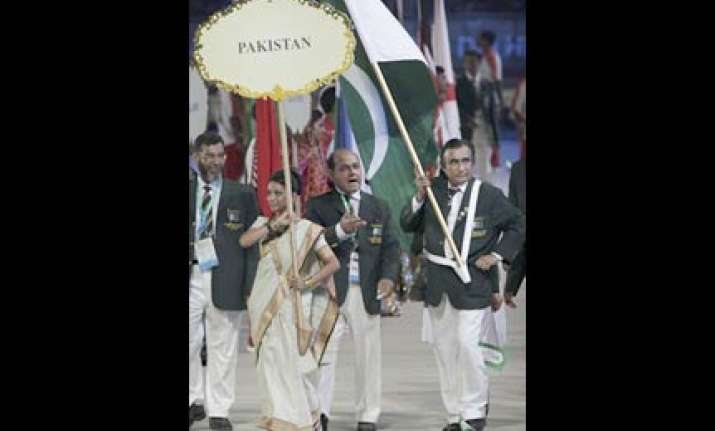 New Delhi, Oct 5: Embroiled in an unnecessary controversy, Pakistan CWG Chef de Mission Muhammad Ali Shah today said he had done no wrong by carrying the flag at the opening ceremony of the mega-event as an official from his country had done the same in 1984 Olympics.
Shah asserted "there was no hard and fast rule" as to who would do the honours.
Shah created a stir when he led the Pakistani contingent during Sunday's gala opening ceremony at the Jawaharlal Nehru stadium in place of designated weightlifter Shuja-ud-Din Malik, a gold medalist in the 2006 Melbourne Commonwealth Games.
But Shah said it was a small misunderstanding which has been cleared and the matter is a closed chapter now.
"The matter is over. It is not at all a serious matter. It was a small misunderstanding and now everything has been sorted out. Now we are looking forward to the Games," he said at the Major Dhyan Chand National Stadium here after Pakistan defeated Scotland 3-0 in a men's hockey Pool A match.
'During the 1984 Los Angeles Olympics, our ex-Prime Minister Zafarullah Khan Jamali was the chef de mission and he carried the national flag during the opening ceremony. Actually, there is no hard and fast rule. It is a tradition that athletes carry the flag but chef de missions can also carry it," he added.
The unsavoury incident, however, did not go well with the Pakistani people and has led to a massive outcry in the nation which forced Prime Minister Yousuf Raza Gilani to order an inquiry.
 But when asked whether the controversy had affected the Pakistani athletes, Shah said, "Not at all. All the athletes are very happy."
Asked who will carry the Pakistan flag during the closing ceremony of the Delhi Games, he said "It has not been decided as yet. Pakistan Olympic Association president Arif Hasan will decide it. But most probably one of the athletes who will perform outstandingly here will do the honours." PTI