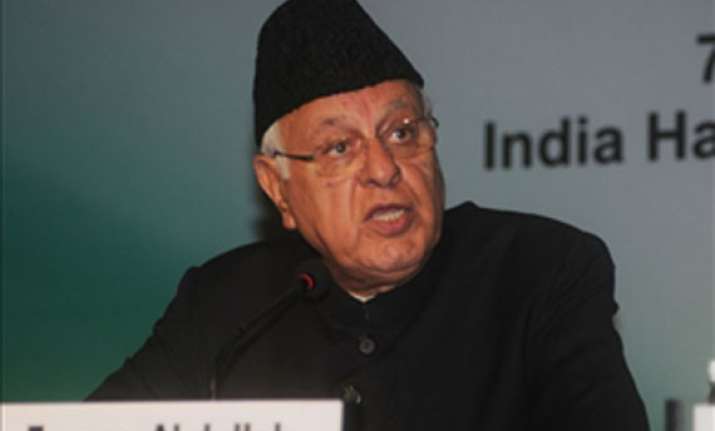 Chennai, Nov 28: Aiming to be world number one in wind power generation, the Centre was considering to set up offshore facilities to generate more wind power, Union New and Renewable Energy Ministery Farooq Abdullah said.
"We are also thinking that the time has come to go into the sea to generate more power from there also", he said at the "Wind Power India 2012" conference, organised by Indian Wind Turbine Manufacturers Association and Global Wind Energy Council.
He said currently India ranks World No five as far as wind power generation. "Our plan is to become No 1 (in the world)", he said.
Stating that the government was taking several initiatives to generate solar power, he said the Solar Radiation Resource Assessment (SRRA) facility in Chennai by C-WET has been set up to cover 54 stations inorder to measure the intensity and humidity of wind and solar energy.
"We are planning to add further 60 stations in the country this year. So, we are moving much bigger way as far as solar energy is concerned.", he said.
Besides, he said that the Government offices would run on solar power in which "roof-top" solar panels would be installed.
Advocating the need for power generation based incentive to wind and solar power developers, he said, "we have plan of adding 3000MW per year as far as wind power is concerned. If generation based incentive is given, industry can grow further and can be motivated in producing more power".
Responding to a query, he said the Tamil Nadu Government has to improve the power transmission system and has to seek the Centre for financial assistance in enhancing it.
"My recommendations to the state government are very straight. You need to improve the transmission system, for which they must approach the Centre for the funds so that we can give the assistance and see to it that money is used for improving the power transmission", he said.
On the UPA government decision to allow FDI in multi-brand retail, he said, "well, I do not know how it is going to work.  But, I know it is going to come in the Parliament. It is going to be debated. I think the speaker is going to fix the date on when it is going to happen and whatever has to happen".