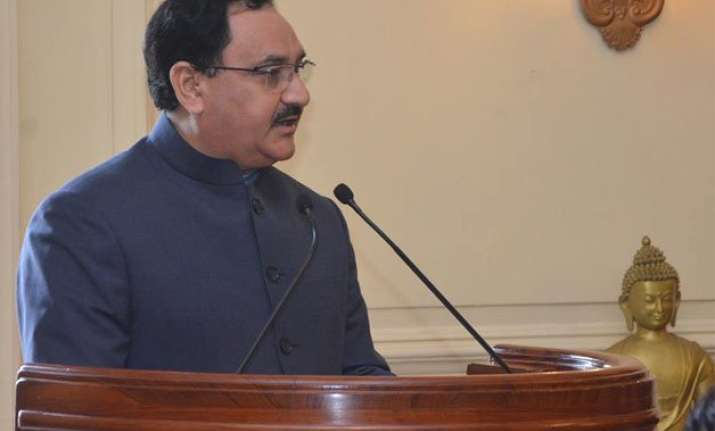 New Delhi:  The government has asked all the central government-run hospitals in Delhi including AIIMS to "buckle up" to tackle an outbreak of dengue during the monsoon season and prepare an action plan within a week to combat the vector-borne disease.
Union Health Minister J P Nadda chaired a review meeting with the Medical Superintendents (MS) of AIIMS, Safdarjung Hospital, Ram Manohar Lohia Hospital and Lady Hardinge Medical College and Hospital and asked them to make assessments of availability of blood and testing kits.
He also asked the hospitals to run awareness campaigns at their own level.
"Everybody (the four hospitals) has been told to get ready with an action plan for dengue. They have been given one week's time to submit a compliance report to the Ministry," a senior Union Health Ministry official said.
Dengue fever is a mosquito-borne tropical disease caused by the dengue virus and its symptoms include fever, headache, muscle and joint pains.
The Health Minister has also directed the hospital to keep their premises clean and mark beds for dengue patients in a separate enclosure.
"There is also a tendency among people to take medicines when they see initial signs of fever as self-medication which is harmful. Therefore the ministry has asked the hospitals to undertake a massive awareness campaign on their level to make people aware about the dos and don'ts on the issue," the senior official said.
He added that the ministry is also going to launch awareness campaign at its level to tackle the disease.
Nadda has also spoken to the health ministers of Punjab and Delhi to tackle the situation. The minister is also likely to make surprise inspection of the four hospital to review the preparedness.
"The hospitals have been told that they should not be caught unaware in case of an outbreak but at the same time ensure that there is no panic situation. The hospitals have been told to remain in this mode for the next four to five months," the official said.
Nadda had earlier reviewed the preparedness of Delhi's civic bodies to tackle the situation and met East Delhi Mayor Harsh Malhotra and South Delhi Mayor Subhash Arya in this regard.
The minister had assured all possible support to the civic bodies and also asked the civic bodies to take extra care in checking mosquito-breeding in offices and residential areas for prevention of dengue and malaria.