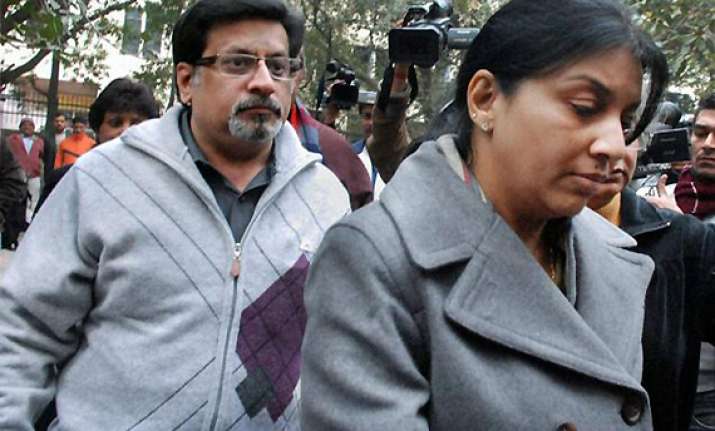 New Delhi/Ghaziabad, Apr 11: Murdered school girl Aarushi Talwar's mother Nupur faced arrest after a special court issued a non-bailable warrant against her today following which CBI carried out searches at her Delhi home.
The searches were carried out by a team of officials sporting blue jackets with bold CBI labels at the dentist couple Talwars' Azad Apartments residence in Hauz Khas in south Delhi.
The special CBI court judge Preeti Singh issued the warrant against Nupur for failing to appear before the court in Ghaziabad. The judge fixed April 18 as the next date of hearing and directed that Nupur be produced before it on that date.
The order was given on the application moved by the CBI seeking issuance of a warrant against Nupur, who was said to be not appearing before the court despite directions.
Nupur's husbad Rajesh Talwar, who appeared before the court, requested it to grant time to her but the CBI opposed it and filed an application for issuance of non-bailable warrant against her.
Dentist couple Rajesh and Nupur Talwar's only daughter 14-year-old Aarushi had been found dead at the family's Noida residence on the night intervening May 15 and 16, 2008.  The next day, the body of their servant Hemraj was also found on the terrace of the house.
Nupur had earlier moved both the Allahabad High Court and the Supreme Court but had failed to get any relief. 
The high court had yesterday denied her relief from arrest.  Hearing on another application of advocate Sanjay Tyagi regarding the surgical gloves, allegedly used by the killers in Aarushi case, has been deferred by the court till the next date.
A decision to arrest Nupur was taken by the CBI minutes after the court issued the NBW against her. 
After searching the Hauz Khaz home, the CBI team also visited the brother of Rajesh Talwar who expressed his ignorance about the whereabouts of Nupur, official sources said.
CBI teams were trying to ascertain the whereabouts of Nupur but will have to wait till sunrise to arrest because as per the revised Criminal Procedure (Amendment) Act no woman can be arrested after sunset and before sunrise except in exceptional circumstances.