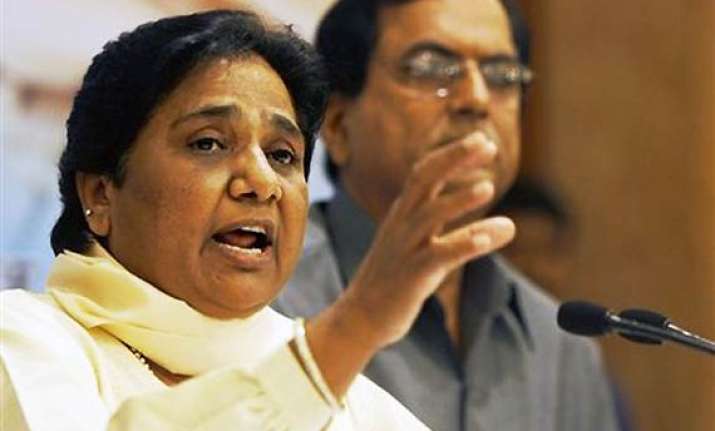 Lucknow, May 18: Criticising the Congress-led UPA government for hiking the price of petrol, BSP chief Mayawati today said the party would observe a day-long bandh in Uttar Pradesh on May 31 to protest the steep hike. Addressing a meeting of the state's ministers, MPs, MLAs and office bearers, the Uttar Pradesh Chief Minister asked them to make the masses aware of the anti-people policies of the "insensitive" Central government.
Mayawati said by holding dharnas at all district headquarters in the state, BSP would begin a nation-wide agitation against the alleged anti-people decisions and flawed economic policy of the UPA government, a press release issued by the party said.
Questioning the timing of latest hike, she said though the international rates of crude oil shot up to Rs 120 per barrel in February this year, the price was not increased as Assembly elections were scheduled in five states. "Now when the prices have come down to Rs 99 per barrel, the Central government has increased the price. This proves that the decision is guided by selfish and political motives," she said.
The chief minister claimed that had the Union government, which is surrounded by scams, been really sympathetic to the common people, it would have utilised some part of the Rs 4.5 lakh crore it provides to corporate houses to keep petrol prices under control.
"Petrol prices have been hiked 12 times since April 1, 2008. There are indications that the prices of diesel and LPG will also be hiked any time now, adding to the problems of the middle and poor classes," she claimed. Mayawati also claimed that the BSP government in the state had taken various steps to keep prices under check, such as lowering VAT on diesel and kerosene.
She alleged that the Centre had been meting out step motherly treatment to the state and had turned down all its demands for special packages for the state's development. PTI