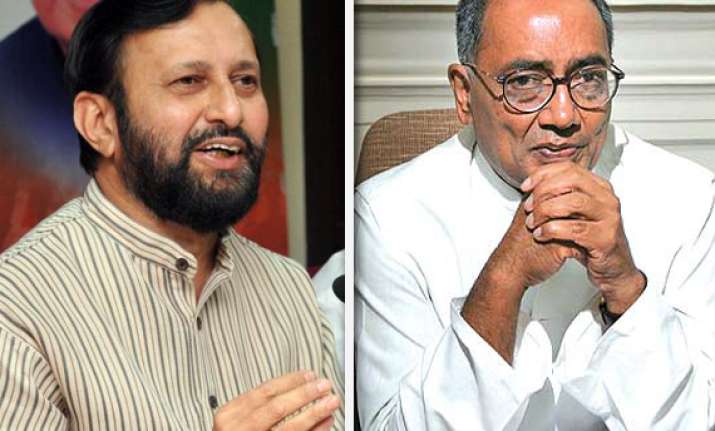 New Delhi, Oct 31: Striking back at Digvijay Singh for his statement that Sri Sri Ravishankar is Plan 'C' of RSS, BJP today said the Congress leader is Plan 'D' of his party which could be "dirty tricks department or duffer" and that he speaks for Sonia Gandhi.

"Digvijay Singh is D Plan of the Congress. Whether one calls it dirty tricks or duffer...," BJP spokesperson Prakash Javadekar said, adding that Congress should not merely distance itself from his comments but also criticise him.  BJP further alleged that Singh always supports all kinds of wrong-doings.

"Digvijay Singh has again made no-holds-barred and non-sensical statements. We are not taking note of these because he is attacking the Congress but because he supports terrorists, calls Osama bin Laden Osamaji, and visits the homes of terrorists in Azamgarh," Javadekar said. 

The BJP alleged that Singh has also pleaded that those named in the 2-G and CWG scams should be given bail. 

"Congress always says this is his personal opinion and distances itself. But the truth is that he speaks on behalf of Sonia Gandhi. Had this not been the case, Congress would not merely be distancing itself from his comments but would have been critical too," Javadekar said.

The opposition charged that Congress attitude towards Singh's statements was merely for "formality sake" and his utterances are aimed at votebank politics and to serve vested interests.

BJP insisted that if the Congress is serious about fighting corruption as stated by Prime Minister Manmohan Singh yesterday, then it should take action against Goa Chief Minister Digambar Kamat in the mining scam, act on Delhi Lokayukta report against minister Raj Kumar Chauhan, and Home Minister P Chidambaram in the 2-G scam. 

"The Congress should reveal how the spoils were shared," Javadekar said, adding that the ruling party should stop using the "spit and run" tactic.