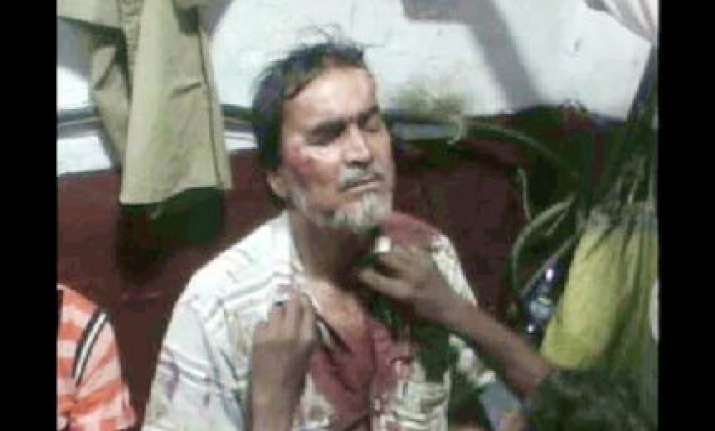 Lakhisarai: About 50 armed men stormed a Delhi-bound train, assaulted passengers and looted them of over Rs.2.50 lakh in cash and jewellery at gun point in Bihar's Lakhisarai district on Thursday night.
20 passengers and a jawan travelling by the Sealdah- New Delhi Lal Quila Express were injured when the armed men fired at GRP personnel and attacked them near Bhalui halt in Lakhisarai district, about 135 km from Patna.
Enraged over the incident, passengers, mostly kanwarias (devotees of Lord Shiva), shouted slogans and ransacked the office of the station master in Kiul.
Around 50 robbers boarded the train at Jamui station and barged into the AC and sleeper coaches of the train and started looting cash and valuables, including jewellery and mobile phones worth over Rs 2.50 lakh, from the passengers, Railway police said quoting the FIR registered by six passengers.
As the unarmed GRP personnel resisted them, they opened fire critically wounding one of them. The jawan has been hospitalised at a nearby hospital, Deputy Superintendent of Police (Railway) R K Sharma said.
Passengers travelling on the reserved berths, besides the kanwariyas were assaulted by the robbers with butts of pistols and rifles when they refused to part with their belongings.
While five passengers, including three women, suffered serious injuries, 15 kanwariyas and others sustained minor injuries, sources said.
A team of doctors was called by the Railways to provide first-aid to the passengers and the train resumed the onward journey to New Delhi more than two hours behind schedule, they said.
About four to five unarmed GRP personnel were present in the train when the incident took place at around 4.45 AM, the sources said, adding "no weapons are given to the GRP personnel on the route".
Four robbers had boarded the train at Jamui railway station, but passengers and the jawans overpowered them and caught two of them. The other two who managed to escape, alerted their accomplices and the robbery took place at the next halt, a passenger said.
Police sources said that of the 275 trains that need security in Bihar, only 15 per cent are patrolled by the Railway Protection Force (RPF) and the rest by the Bihar Police.
A male passenger travelling on the train said, "A group of men in the age group of 18-25 years barged inside the train and robbed us (passengers) at gunpoint.
"They took away my mobile and cash besides the jewellery of my wife," he said.
Another train passenger said the robbers hit her daughter with an iron rod.
"They attacked the train, smashed the window panes, hit us and took away our valuables," a woman passenger said.
When the train reached Kiul station, enraged passengers barged into the station master's office, smashed furniture and threw documents.
They alleged that there was no government railway police or railway protection force escort on the train.
Bihar police refuted the allegations. It said there was an escort security team on the train but it was unarmed. PTI