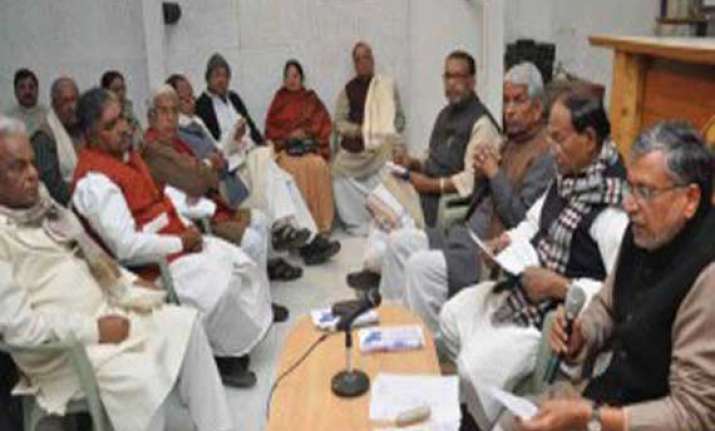 Patna : Six BJP legislators, including two vocal supporters of BJP's prime ministerial candidate Narendra Modi, expressed their displeasure after being denied tickets for the Lok Sabha election.
Legislators Giriraj Singh and Ashwani Kumar Choubey are unhappy a day after the party announced 25 of 30 candidates for the polls.
The BJP will contest the polls in alliance with the Lok Janshakti Party (LJP) of Ram Vilas Paswan and Rashtriya Lok Samta Party (RLSP) of Upendra Kushwaha. The LJP was given seven seats and three were given to RLSP.
Giriraj Singh, who was announced as a candidate from Nawada constituency, is angry over the fact that his demand to contest from Begusarai was ignored.
"I had repeatedly said that I will contest the Lok Sabha polls only from Begusarai if I will contest. I will not contest from other seat," Singh told IANS over telephone from Delhi, where he met BJP president Rajnath Singh to inform him about his stand.
A BJP leader close to Giriraj said that he may reject the party's offer to contest from Nawada.
The party has fielded Nawada MP Bhola Singh from Begusarai, a seat dominated by powerful Bhumihar upper castes.
Another Modi supporter, Choubey, whose name was not in the list of candidate for Bhagalpur seat, said he had requested the party leadership that Shahnawaz Hussain should be given ticket from Muslim-dominated Kishanganj, not from Hindu-majority Bhagalpur. But his suggestion was ignored.
"I am not happy over it," Choubey said.
In the 2009 Lok Sabha polls, Hussain won from Bhagalpur.
BJP's woman legislator from Paliganj constituency Usha Vidhyarti has threatened to contest against party candidate Ram Kripal Yadav, a new entrant, for Patliputra seat in Patna.
"I can contest against Yadav as party has totally ignored a special upper caste equation in favour of a particular caste. My workers and supporters are angry, putting pressure on me to contest as independent. I will decide soon," she said.
Yadav, a former RJD leader, joined the BJP two days ago and was made candidate from Patliputra.
BJP legislator from Muzaffarpur Suresh Sharma Friday resigned from the post of state election management committee to protest the party's decision to hand over ticket to Ajay Nishad, whose father Capt. Jainarayan Nishad, MP from Muzaffarpur, defected from JD-U to BJP after being expelled from the party.
"I have resigned as chief of state party election management committee to protest against party's decision to name Ajay Nishad as its nominee," Sharma said.
BJP legislator from Aurangabad Ramadhar Singh is also unhappy over ticket being to Aurangabad MP Sushil Kumar Singh, who joined the BJP last week after he was expelled by the JD-U.
BJP legislator from Mahnar Achutanand Singh is annoyed over the nomination of LJP's Rama Singh from Vaishali.
He said he might contest from there as an independent candidate.