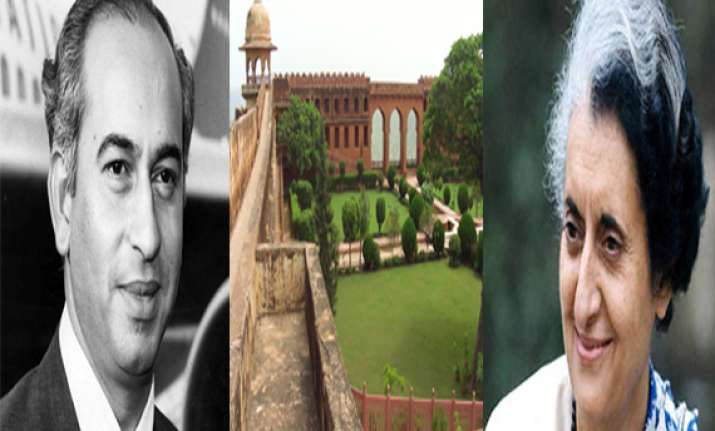 New Delhi: Pakistan prime minister Zulfiqar Ali Bhutto in 1976 had demanded his country's share in the Jaigarh fort treasure from the then Indian prime  minister Indira Gandhi, but India told Pakistan nothing was found and the treasure hunt was called off, says a newly published book.
A division of Indian army was dispatched by Indira Gandhi at the height of Emergency to dig up the fort premiss in search of the gold treasure supposedly hidden by Raja Man Singh, trusted ally of Mughal emperor Akbar. Rajmata Gayatri Devi of the Jaipur royal family was then imprisoned during Emergency.
Zulfiqar Ali Bhutto's role in the Jaigarh treasure hunt has been chronicled in the latest book  India-Pakistan Relations (1947-2007), edited by Avtar Singh Bhasin, released earlier this year.
The correspondence between Bhutto and his Indian counterpart makes interesting reading.
When  Bhutto,heard about the treasure hunt, he wrote a letter to India Gandhi on August 11 1976  saying Pakistan should not be denied its share. .
Bhutto wrote: "As your expedition of locating the treasure proceeds, I would urge you to remain cognizant of Pakistan's claim to its due share of this wealth.
"This is an asset which was not known at the time of partition between the two successor states (then called dominions) of India and Pakistan.
"However, the order that was enforced with the agreement of both governments did not fail to provide that any property or benefits can be shared between them where such sharing is just and equitable.
"The historical provenance of this treasure, regardless of the location of its physical discovery, makes it the joint patrimony of our two countries and I am confident that, with an approach based on equity, we will dis-countenance any usurpation and amicably arrive at a formula for the division between us."