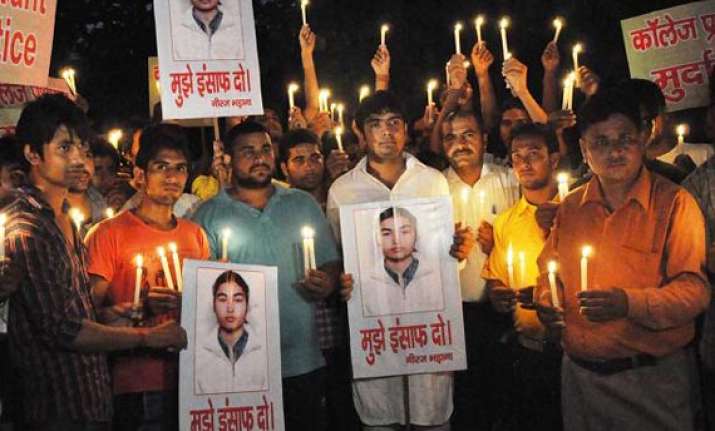 Moradabad, July 21: The family members of management student Neeraj Bhadana, who died in suspicious circumstances at a private university campus on July 6, yesterday sought a CBI probe into it.
They also demanded immediate arrest of college chairman and his son.
Bhadana's uncle Gyan Chand Bhadana demanded that college chairman Suresh Jain and his son Manish Jain be arrested immediately for "concealing the evidence of death".  
Addressing a press conference here, Neeraj's uncle and ten other family members said that an emergency doctor of medical college, who was present on the day of  incident at the institute here, was also found dead in mysterious condition.
"He could have been alive if accused would were behind the wars," he said.
"We are demanding the CBI investigation into the matter," said Neeraj's uncle.
Bhadana, an MBBS first year student hailing from Faridabad in Haryana, was found dead in the college premises on July 6.
The college management termed it as an accidental death, saying the girl was sitting on the railing of the fifth floor and suddenly she fell down.
The postmortem report, however, found that the girl was strangulated to death and there was no fracture on the body.
Union Corporate Affairs Minister Sachin Pilot has asked Prime Minister and UP Chief Minister to ensure a fair probe into the suspicious death.
Earlier, Uttar Pradesh government on July 12 handed over the investigations to CB-CID of the state police.
National Human Rights Commission (NHRC) on July 11 had also issued a notice to Moradabad SSP on a complaint of slow investigation into the mysterious death giving four weeks time to respond to the notice.