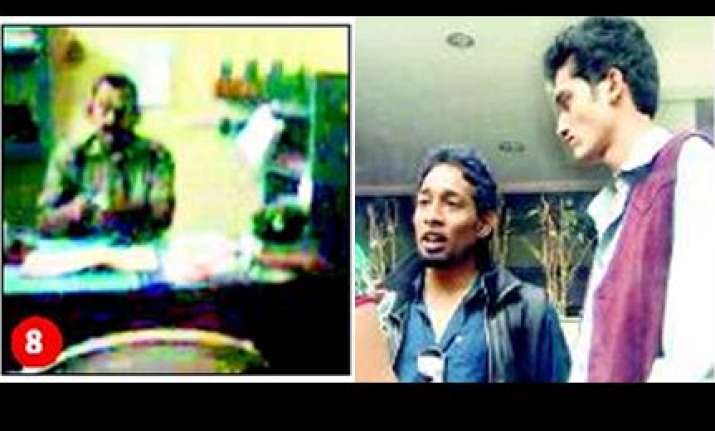 Bangalore: Sixteen students from some of Bangalore's  reputed colleges saw the dark underbelly of the law when police officers barged into their PG accommodation and harassed them all through Monday night, reports Mirror.  
The boys, who had gathered to celebrate a friend's birthday, were picked up on the charge that they were making too much noise, detained in the Sanjaynagar police station, and allowed to leave the next morning, only after their pockets had been emptied forcefully.
Video grabs show students detained at Sanjaynagar police station
ASI Nagarajappa is shouting at the boys, allegedly demanding Rs 15,000 as bribe
The boys, who've said they cannot pay the amount, told they won't be allowed to leave
The students try to put together whatever they can
Bargaining on: The amount is brought down to Rs 500 per head but even that's too much
Finally, after searching each boy, ASI Nagarajappa holds up the confiscated cash
The assistant sub-inspector counting the money to see how much the night was worth
The cops, who didn't know they were being shot, settling for Rs 1,000
Sohail and Manoj Kumar, friends of Shivaprasad, the birthday boy
Unknown to the cops, however, the entire incident — including Assistant Sub-Inspector Nagarajappa counting the confiscated money — was shot by one of the students on his mobile phone.
Using this footage as evidence, an inquiry has now been instituted against Nagarajappa and four constables from the police station.
 The boys had come together to celebrate the birthday of Shivaprasad, a student of Jain College of Business Management, in a flat on BEL Road, where he lived as a paying guest. With beer flowing freely, the party started getting noisy as midnight approached.  
At the stroke of 12, just when Shivaprasad was being wished by his friends, the cops – some of them allegedly drunk – stormed into the house.  
"Without asking any questions, the policemen started abusing and hitting us," Manoj Kumar, an engineering student from M S Ramaiah College, told Bangalore Mirror.  
"Refusing to hear anything we had to say, they ordered us to line up, bundled us into a Hoysala van like cattle, and took us to Sanjaynagar police station."  
The cops, who had confiscated beer and a celebratory bottle of champagne, first finished drinking and then asked the boys for money, starting with a demand of Rs 15,000 made by ASI Nagarajappa.  
When the students expressed the inability to pay such an amount, the figure was slowly brought down to Rs 500 per head. On being told by the boys that they couldn't even come up with that much, since they'd spent money on the birthday cake, beer and champagne, the cops started getting rough again.  
 "They frisked each of us forcefully, holding us down and taking whatever they could find in our pockets," Shivaprasad said. "In all, they would have taken about Rs 1,000, though we're not sure of the exact amount."  
It was at this point that one of the students – who asked not to be named fearing further harassment – started to secretly record a video on his cellphone.  "Once they had taken the money, they released us realising they couldn't get anything more. They did not book a case against us," Shivaprasad said.  
According to law, making a noise late at night inside a private residence calls for no more than a warning, or in extreme cases, a notice.
Deputy Commissioner of Police (North), H S Revanna confirmed that an inquiry had been ordered.
"The Sanjaynagar police inspector has been asked to give an interim report against the cops. After this, we will order a detailed inquiry and place the cops under suspension, if needed," he said.  
Sanjaynagar inspector M Nagaraj summoned the students and recorded their statements on Wednesday evening, and collected the video footage – a copy of which is with Bangalore Mirror – from them.