Follow us on New Delhi: Amid controversy over renaming of Aurangzeb Road, the will of controversial Mughal emperor has surfaced which states that he never wanted any tomb to be built in his name after death.
In fact, he had also said that no stone should be kept at the place of his burial.
It is being said that the will of Aurangzeb was recorded by Maulvi Hamid-ud Din in chapter 8 of his hand written book in Persian about the life of the sixth Mughal Emperor.
Read here is the will of Aurangzeb: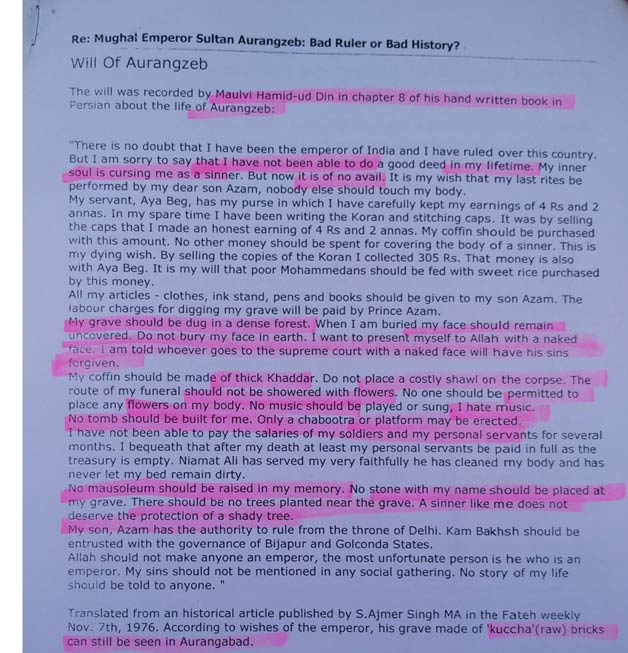 There is no doubt that I have been the emperor of India and I have ruled over this country. Bu I am sorry to say that I have not been able to do a good deed in my lifetime. My inner soul is cursing me as a sinner. But now it is of no avail. It is my wish that last rites be performed by my dear son Azam, nobody else should touch my body.
My grave should be dug in a dense forest. When I am buried my face should remain uncovered. Do not bury my face in earth. I want to present myself to Allah with a naked face. I am told whoever goes to the supreme court with a naked face will have sins forgiven.
My coffin should be made of thick Khaddar. Do not place a costly shawl on the corpse. The route of my funeral should not be showered with flowers. No one should be permitted to place any flower on my body. No music should be played or sung, I hate music.
No tomb should be built for me. Only a chabootra or platform may be erected.
No mausoleum should be raised in my memory. No stone with my name should be place at my grave. There should be no trees planted near the grave. A sinner like me doesn't deserve the protection of a shady tree.