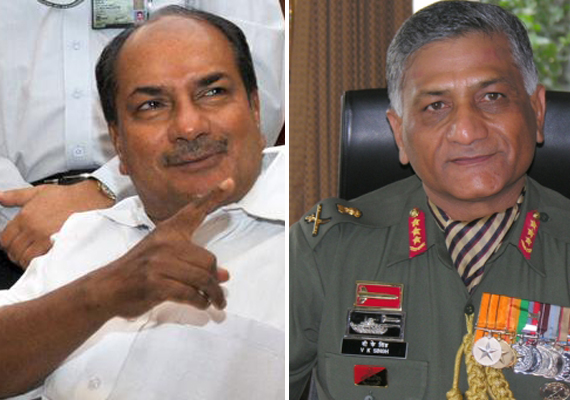 New Delhi, Mar 27: Facing a storm over Army Chief's allegation about bribe offer, Defence Minister A K Antony today appeared to blame Gen V K Singh for the inaction, saying he had been asked to act but he did not want to pursue the matter for unknown reasons.
In a suo motu statement in the Rajya Sabha, Antony confirmed that the Army Chief had told him about retired Lt Gen Tejinder Singh allegedly offering him bribe of Rs 14 crore, which he heard with "shock".
The Minister responded to questions as to why he did not act on the allegation, saying he "could have acted" but did not do so because he had not received any written complaint. 
He told the House that he had ordered a CBI inquiry based on newspaper reports yesterday and promised that nobody would be spared, howsoever, powerful that person may be. 
"This happened more than one year ago. That is my memory.  Exact date they (army officials) know because no one can meet the Army chief without any appointment," Antony said on Gen Singh's allegation in an interview that he was offered bribe for consideration of "sub-standard" vehicles and he informed the minister about it.
Recalling the incident, the minister said the Army Chief had told him that "one retired General Tejender Singh" met him and offered Rs 14 crore bribe.
"I was shocked... It took me one to two minutes to regain my composure. Then I told him to take action but he told me I do not want to pursue it. I don't know why he did not want to pursue it at that time," Antony said.
With regard to questions on his own inaction in the sensational matter, Antony said, "I acted on my judgement. If I am wrong, you may punish me. I think I have done my best."
The minister said it has been his policy to take action even on anonymous complaints but in this case there was nothing in writing.
"I will take action, nobody will be spared. If anybody is found guilty, whoever he is, however powerful he may be, I will take action," Antony said.
Admitting that he "could have acted" when Gen Singh told him about the bribe offer, Antony said as a minister "I cannot act just on a complaint...I did not get any written complaint at any stage."
He was responding to questions by opposition members as to why he did not act despite the matter being brought to his notice by none other than the Army Chief.  Antony, who at the outset said, "I will say truth, nothing but truth" repeated at this stage "I am telling you the truth that has happened."
The minister said that when he read about the allegations in a newspaper yesterday, he immediately told the Defence Secretary to take action without waiting for any formal complaint.
"This was action I took," he said.  Since then CBI inquiry has been ordered for comprehensive probe. "CBI will inquire into everything," Antony said. 
The minister also said he cannot ignore even an anonymous complaint. "I am very clear. That is my approach...it is my priority. If a written complaint, even if anonymous, was received, I used to forward it for inquiry," he said. 
Leader of the Opposition
Arun Jaitley
said opposition did not question the minister's integrity but wondered why neither Antony nor the Army Chief took any action on the development that took place in September last.
"Is this an issue on which both of them should have put blinkers on their eyes and not inquired into the matter at all," Jaitley said, when the subject matter was even orally brought to the notice of Defence Minister by the Army Chief. 
Jaitley said opposition was with him if he wanted to "cleanse" the system but there should be a judicious balance with respect to procurements as the country could "not be left unprepared".