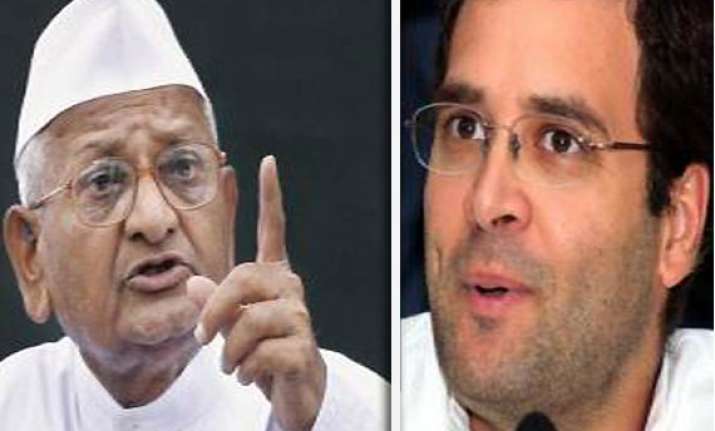 Ralegan Siddhi, Dec 3: A combative Anna Hazare today clearly said he would go and sit on fast inside jail, if he was denied permission by Delhi Police to sit on fast in Ramlila Maidan from December 27, if the Jan Lokpal Bill was not passed.
 
Addressing a press conference, Hazare said, it was not his decision to insult Rahul Gandhi, but he had his "suspicion" about Rahul's pressure on the government.
 
"The Parliamentary Standing Committee had unanimously decided to include Group C employees in the Lokpal Bill. This was supported by the government too. Then, how come the very next day, the govt took a U-turn and forced the Committee to keep Class C and D employess out of the Lokpal Bill?  This creates suspicion", said Hazare.
 
"I again say there can't be smoke without fire. There is some hanky-panky. It was not my intention to insult rahul Gandhi", he said.
 
"One should understand, Class C and D employees in government deal with people almost on a daily basis. Only when these employees are brought under Lokpal, the poor will get justice", Hazare said.
 
Hazare revealed for the first time that the government had made plans to foil his indefinite fast in the same way it handled Baba Ramdev.
 
"They had kept an Air Force plane ready in Delhi, to take me to Pune, and from there to Daulatabad Fort or Bhandardhara Dam. Govt's plan was  to put me under detention to foil the agitation, but within two hours, the govt changed its stand and decided to release me from Tihar jail.
 
"I then said, I won't leave the jail.  I then sat on fast in the DIG's office.  I told the DIG you can throw me out of your office.
 
"Three days later, dimaag thikaane aa gaya (they got their right senses) and allowed us to sit on fast in Ramlila Maidan", said Hazare.
 
The Gandhian said. our movement is not against the government, the Congress Party, the PM or even Rahul Gandhi, it is against the attitude of the government.
 
On the FDI issue, Hazare again said, government should go by the majority view in Parliament.