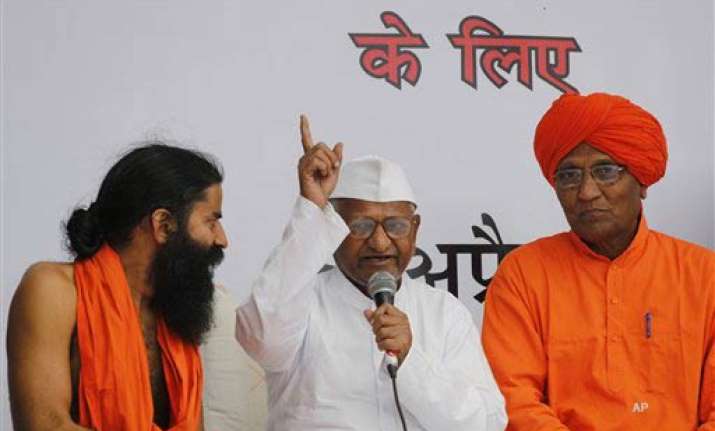 New Delhi, Apr 10: Gandhian activist Anna Hazare has set August 15 as the deadline for passage of the much-awaited Lok Pal Bill, failing which he has threatened to march with a tricolour to Red Fort.

Hazare, who ended his hunger strike at Jantar Mantar here on Saturday morning, told his supporters that pressure needs to be maintained on the Cabinet and the Lok Sabha to ensure that the Lokpal Bill is passed without delay and without being watered down.

"We have taken upon ourselves a great responsibility. We have to make a full and final draft. Along the way, we must continue to fight. If the draft Bill faces hurdles in Cabinet, we will have to launch a struggle again. If needed we might have to march to Parliament when the Lok Sabha is in session," Mr. Hazare said to his supporters.

Setting August 15 as the deadline to pass the Bill in Parliament, failing which, he said, he would march to the Red Fort and hoist the tricolour, Mr. Hazare declared that his movement marked the "start of a second independence struggle."

The veteran social activist also flagged other issues of concern that would have to be addressed: "Farmers are struggling. Reforms in education and workers' rights are needed. The government should embark on a process of decentralisation of power. The right to recall elected representatives in civic bodies will give people more power. Electoral reforms are the need of the hour. The present electronic voting machine system has shortcomings. People should have the option to register a 'No' vote to show their opposition to the candidates put up for election."

The satyagrahis, who had joined the hunger-strike, drank lime juice offered by Mr. Hazare, Medha Patkar, Swami Agnivesh, Kiran Bedi and Arvind Kejriwal to break their fast. Volunteers and supporters smeared "gulal" on each other's face to celebrate the occasion.

Later in the day, while speaking to the media, Mr. Hazare insisted that fasting was a democratic way of protest and his agitation was not meant to blackmail the government. He added that he did not expect so much support when he started the fast on Tuesday.

The leaders of the movement were guarded despite their success in forcing the government to accept all their demands. "I am sure it [Bill] will be introduced in Parliament. I am concerned about what will happen in the joint drafting committee, seeing the delay it took them to bring out a simple gazette notification to include us in the committee. The people should be ready to come out on the streets again if Anna makes a call," said Mr. Kejriwal.

Hazare's press conference at the Press Club of India had to be cancelled after his blood pressure shot up and he was forced to take rest for much of the afternoon. A candlelight vigil was later organised in the evening at India Gate.