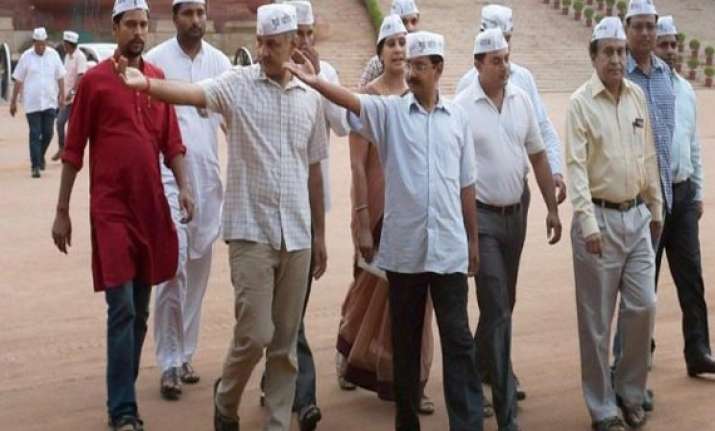 New Delhi: With a section in BJP favouring taking a shot at government formation in Delhi, AAP chief Arvind Kejriwal along with 24 party MLAs today met Delhi Lt Governor Najeeb Jung and demanded immediate dissolution of the assembly to stop "horse trading" of legislators and pushed for fresh polls.
After 25-minute-long meeting, Jung said he will take into account the "full situation and after due consultations with others, send in a detailed report to the President of India
for his consideration."
Kejriwal later described the discussions with Jung as "good" and said the Lt Governor will now invite BJP for discussions and if the party claims that they can form the government, then he will ask it to show the numbers.  "Met LG. Had good discussions.
He will now invite BJP for discussions. If BJP claims they can form govt, LG will ask them to show nos.
"We told him that delay in dissolving assembly was encouraging horse trading," Kejriwal tweeted soon after the meeting.
Senior AAP leader Manish Sisodia said his party demanded conducting fresh polls "as soon as possible" as government formation in the current scenario was not possible.  
"We explained to him the current political situation and told him that delay in dissolving assembly was encouraging horse trading.
We had resigned on February 14 and that time also recommended dissolution of the assembly," he said.  The AAP leader said as Congress has already announced that all its eight MLAs will neither take nor give support to anyone, there was no possibility of government formation.  
In a statement, LG office said "Arvind Kejriwal along with 24 MLAs of Aam Aadmi Party came and met Lt Governor Najeeb Jung. Making accusations of horse trading, they asked for the dissolution of the Assembly."
Sisodia said Jung assured them that he will hold discussions with all parties including BJP and will then send a detailed report to the President.
"However, he said that if any party is indulging in horse trading, then he cannot help as it doesn't fall under his jurisdiction," Sisodia said Referring to BJP showing willingness to form a government, Sisodia asked why the party didn't form government when it had 32 MLAs.
"How will they form government with 29 MLAs now".  Delhi BJP president Satish Upadhyay yesterday had said his party was "fully ready" to face fresh elections though many party MLAs are reluctant to go to polls again.
At the same time, he said the party will explore taking a shot at power and talk about the numbers once invited by the Lt Governor.
The AAP has been making allegations that BJP was trying to poach MLAs from other parties to form government.
Currently BJP, along with ally Akali Dal's lone MLA, has 29 legislators and will require the support of five more MLAs to prove majority in the assembly.
BJP insiders said at least five Congress MLAs have indicated that they are ready to form a separate group and support a BJP government.
On Saturday, Congress had paraded all its MLAs before media to show that all its legislators were firmly with the party and rejected speculation of any possible split.
BJP had emerged the single largest party after the assembly polls in December last year with 32 seats including ally Akali Dal's one MLA in the 70-member House.
BJP fell four seats short of a simple majority and had refused to form government in December last year, saying it did not have the numbers and will not resort to any "unfair
 means" to take the reins.
AAP with 28 MLAs had later formed the government with support of eight Congress MLAs. AAP's strength has also come down to 27 after expulsion of party MLA Vinod Kumar Binny.
BJP's number came down to 28 in the House in May after three of its legislators Harsh Vardhan, Ramesh Bidhuri and Pervesh Verma were elected to Lok Sabha. With the resignation of three MLAs, the strength of the assembly also went down to 67.
Senior AAP leader and party spokesperson Ashutosh tweeted: "And invited party should furnish evidences of majority support. Lt Governor discretion is limited. Simple oral assurance will not work.
"Lt Governor can't invite party to form government unless he is sure, party has majority in assembly. This is constitutional requirement."
AAP had yesterday claimed that BJP was "running away" from fresh elections in the national capital and also questioned Congress's "silence" over whether or not it wants the Delhi Assembly to be dissolved.
AAP said that during the hearing of its petition challenging the central government's decision to keep the Delhi Assembly in suspended animation instead of dissolving it, Supreme Court had observed on April 17 that, "Nothing should be done which facilitates 'Aaya Ram, Gaya Ram' (or horse-trading brand of politics) in the Assembly."