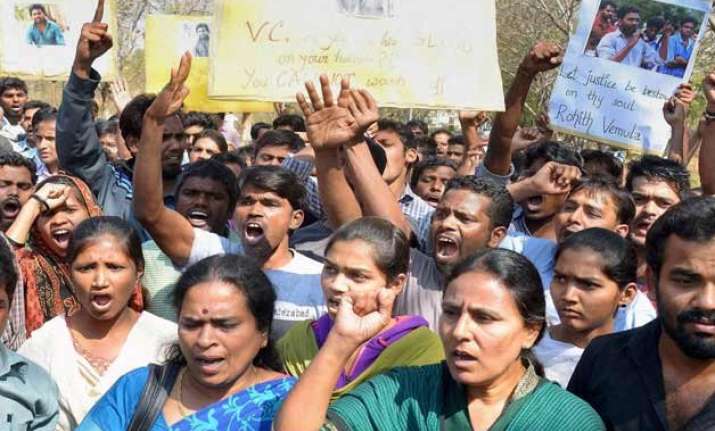 Hyderabad: Students of the University of Hyderabad, where a Dalit student committed suicide after his expulsion, continued their protest in the varsity premises today demanding action against Vice-Chancellor Appa Rao, Minister of State for Labour and Employment Bandaru Dattatreya and ABVP leader Sushil Kumar.
They raised slogans denouncing the VC and displayed placards reading - 'Appa Rao murdabad', 'Rohith Vemula amar rahe' and 'Sushil Kumar hai hai'.
The agitators also demanded a compensation of Rs 50 lakhs for Rohith Vemula's family.
"Our demands are very clear. Minister Bandaru Dattatreya, Vice-Chancellor Appa Rao and ABVP activist Sushil Kumar should be put behind bars. Appa Rao should be removed from the post of VC. Rohith Vemula's family member should be given employment and a compensation of Rs 50 lakhs should be given to his family," one of the student said.
According to reports, this is not the first suicide by a Dalit student at the University of Hyderabad campus. Zuhail KP, president of the university students union, said that over the last decade a string of suicides have rocked the university but the management has still not woken up to the issues of Dalit students.
"8 suicides is not a small number, but the university has still not woken up to the issues of Dalit students. Rohith's death only highlights a larger issue of caste-based discrimination prevailing on campus," Zuhail said.
In Pune, students of the prestigious Film and Television Institute of India (FTII) also began a one-day hunger strike to express solidarity with their colleagues of the Hyderabad University.
Rahul interacts with protesting students, meets victim's kin
Congress vice-president Rahul Gandhi today interacted with the protesting students of the University of Hyderabad, where a Dalit scholar committed suicide.
"RG has reached Hyderabad & is interacting with students seeking justice for Rohith Vemula," the Indian National Congress (INC)'s twitted.
Rahul also interacted with parents of Rohith Vemula, who hanged himself to death on Sunday.
Hyderabad police had on Monday registered a case against Union Minister Bandaru Dattatreya and three others under the Scheduled Casts and Scheduled Tribes Act in connection with the suicide of Rohith.
The case was registered against Dattatreya following allegations that he wrote to the Union HRD Ministry seeking action against Rohith and four other research scholars of the university for the alleged assault on ABVP leader Sushil Kumar.
HRD Minister Smriti IRani, however, flatly refused any intervention by the government in the Rohith's suicide and said that a two-member team has been sent to the varsity from the ministry to take stock of the situation.
Rohith, a second-year research scholar from the Science, Technology and Society Studies Department, and others were suspended from the hostel last year following allegations that they attacked Sushil Kumar after a screening of the controversial documentary 'Muzaffarnagar Baaqi Hai'.