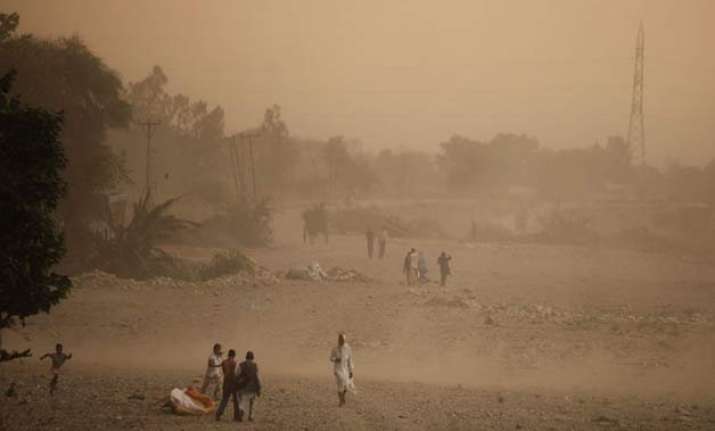 Bikaner/Jaipur: Seven persons, including a minor girl and a woman, were today killed and 11 others injured after a strong dust storm hit parts of Rajasthan.  
The storm damaged many houses in rural areas of Bikaner and Bharatpur while many trees were uprooted and traffic was badly affected, police said.
Five persons were killed and four injured in villages of Bharatpur while two were killed and seven injured in Bikaner this evening.
The storm with high velocity winds was generated due to pressure gradient force over Bikaner region and soon advanced to Jodhpur, Nagaur, Jaipur, Alwar, Bharatpur and nearby areas, according to MeT department in Jaipur.  
"Traffic was affected in those areas and there were reports of some trees being uprooted in Bikaner, Jaipur and Bharatpur," the state police control room said.  Of the five persons who were killed in Bharatpur, three died when walls collapsed on them.
Kedar and Udai Singh were sitting near the boundary wall of a house in Nagar area when the wall collapsed due to strong winds, killing them on the spot, police said. Labourer Ravi Kumar was killed and two others were injured when a pillar of an under-construction building collapsed in Bharatpur's Sewar area.
A woman, who was grazing her cattle on a pasture land, died when a tin shed hit her throat.
The tin shed was of a cremation ground along the pasture land, the police said.
In Khemra village of Bharatpur, Raghuveer Jat was killed and two others were injured, they said.  In Bikaner, a 14-year-old girl was killed in Shitla gate area after being hit by a tin shed, which had blown apart. In Nal area, a wall collapsed killing one labourer and injuring seven others.
Several houses in rural areas have been damaged due to the storm, police said.
Severe heat wave conditions prevailed in isolated areas in Bikaner while heat wave swept a few other regions in the state, according to Met department here.  Kota was recorded as the hottest place with a maximum of 46.2 degree Celsius followed by Jaipur, which sizzled at 45.2 degrees.
Other places registered day temperatures between 36.2 and 44 degree Celsius.
A few places also received light rainfall.  Bikaner, Pilani, Churu and Sriganganagar recorded 14.4, 11.4, 10.4 and 0.5 mm rains respectively till evening.  The Met department has predicted dust storm/ thunder storm with rain at isolated places in northern parts of the state during the next 24 hours.
In Dholpur, two persons were killed over 30 injured in separate storm-related incidents.
38-year-old Ramboli Gurjar and Pyrelal (62) were killed when a thatched house and an electricity pole collapsed in Mania area, SP Rajesh Singh said.
He said that over 30 people were injured in other incidents due to storm and have been admitted to a government hospital in the district.
Meanwhile, movement of trains was also disrupted for some time after an electricity wire broke and fell on the railway track near a railway station.