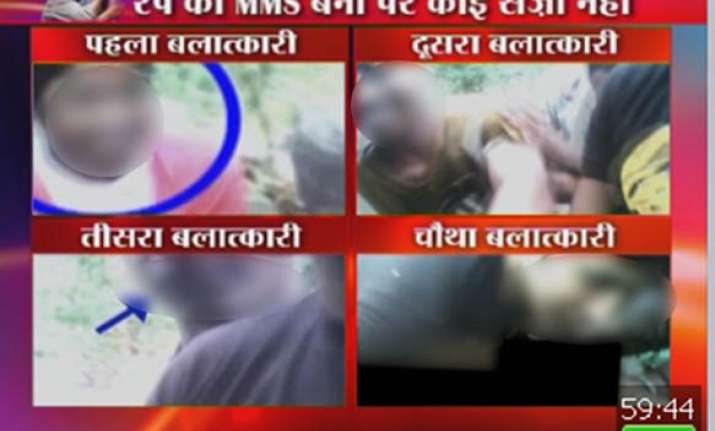 Mumbai, Jul 3: The two-month-old gang-rape of a 20-year-old girl from Malad East came to light this week when an MMS clip of the incident was found circulating in the neighbourhood. The police which was initially reluctant to take steps swing into action after India TV telecast the MMS of the accused in its primetime show on Friday night.

After India TV telecast the story, the Kurar police registered an offence suo motu on Friday night, arresting four of the five accused on Saturday. the main accused Suraj Nepali is absconding.

Meanwhile, the girl has left for her hometown in Uttar Pradesh and a police team will soon visit the state to record her statement.

Of the five accused, one is related to the victim and at least two others are minors. Officials said the girl was gangraped in a forest at Kurar village on May 10.

"The girl is a resident of Kurar. On the night of May 9, she accompanied the accused to Siddhivinayak Temple. The accused are her acquaintances as they live in the same neighbourhood," a police officer said.

After paying obeisance to the deity, the group decided to return home. They tried to board a train but got into an argument with some people and decided to hire a taxi instead.

They reached Kurar in the wee hours of May 10. The boys then took the victim to a secluded location at Nimbolipada in the forest.

One of the boys inspected the victim's cellphone and found that she was in touch with some people with whom he did not get along. This led to an argument between the girl and the boys.

"After forcing the girl to consume Mandrax tablets, they took turns in raping her. The boys also consumed some drugs. One of them shot an MMS clip of the victim while she was being raped," a police officer said

The prime accused, Suraj Nepali, is on the run along with an associate. The arrested have been identified as Rajesh Jaiswal (21), who is the victim's nephew, Balasubramanium Nadar alias Vicky (19) and a 15-year-old whose identity has not been disclosed.

When the victim stumbled back home and narrated the incident to her parents, they decided to send her to UP.

Recently, police officials learnt that an MMS clip of a gang-rape was being circulated in Kurar village.

India TV reported the incident, following which a probe into the case was initiated by the police. The crime branch also assisted the local police in the investigation.